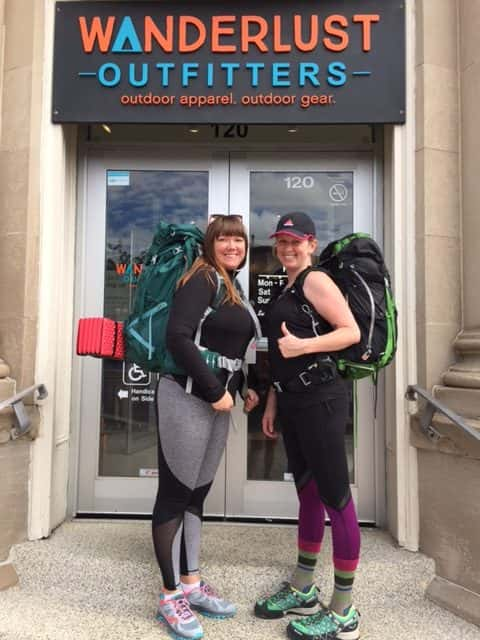 I love being out in nature, but haven't ever had the benefit of learning from an experienced outdoors adventurer. So when I had the opportunity to go on a guided camping, hiking, and paddling trip with the experienced and knowledgeable staff at Wanderlust Outfitters in St. Joseph, of course I was all in!
The trip started out on Saturday morning when my sister-in-law Jenna (pictured here), my sister Kathreen, the rest of the trip guests, and I stopped by Wanderlust to fill the Osprey backpacks we would be using for the weekend. Britney and Jon, the store owners, gave us a ton of guidance about what to pack and what to leave at home, so I felt confident loading up my backpack with only the essentials – including a few goodies they gave us for the trip.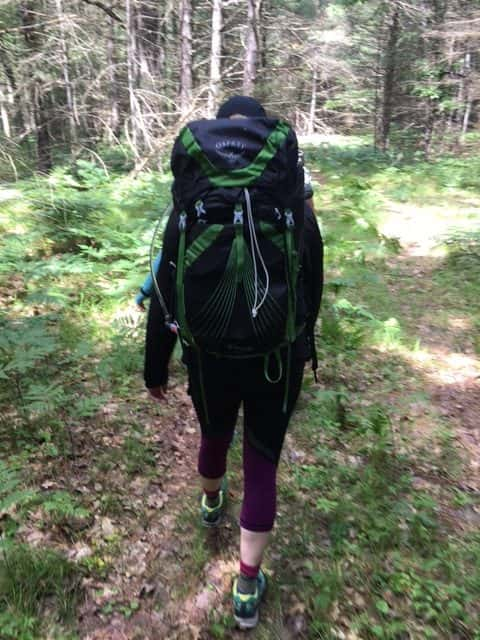 After a bus ride up to Baldwin, our first stop was the North Country trail in the Manistee National Forest. While the 6-mile hike was relatively easy, I really appreciated the way my new Salewa hiking shoes protected my feet from rocks, roots, and other nature-y things that are typically found in nature.
I was a little concerned that my backpack would be way too heavy, considering that it was stuffed to the gills with stuff including a sleeping bag, camping pillow, water, a change of clothes, a hoodie, a few toiletries, sunscreen, bug spray, etc. But it was actually really comfortable – helped by the fact that our Osprey packs had several straps you can tighten or loosen to ease stress on different parts of your body, and the fact that we'd been professionally fitted by Wanderlust staff to make sure the packs were the right size and type for us. It was so peaceful that Jenna, Kathreen, and I all agreed that the 6 mile hike felt like it was over in a flash.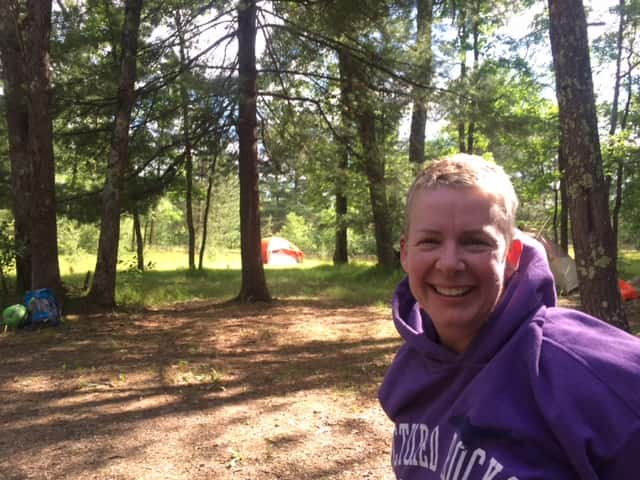 Before we knew it, we were at the campsite. We got our tent up in record time, and then it was time to explore with Jenna and Kathreen (pictured above)!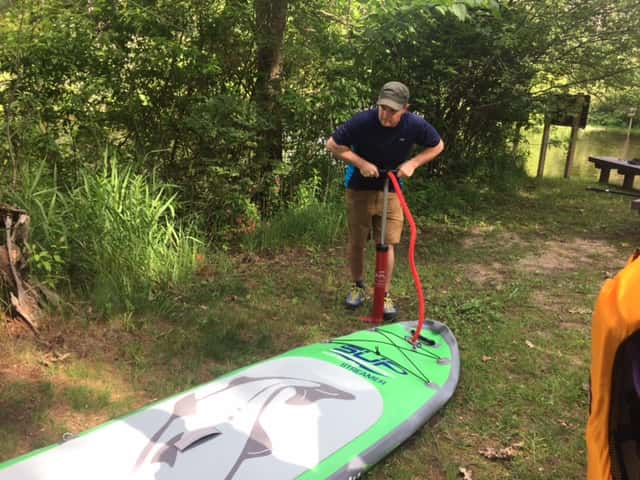 Not long after we got to the campsite, we went down to the river with Jon to get a stand-up paddleboarding (SUP) demonstration with an onthefly SUP.  Jon showed us how easy it is to inflate the paddleboard, and explained why the onthefly SUP is so stable and durable.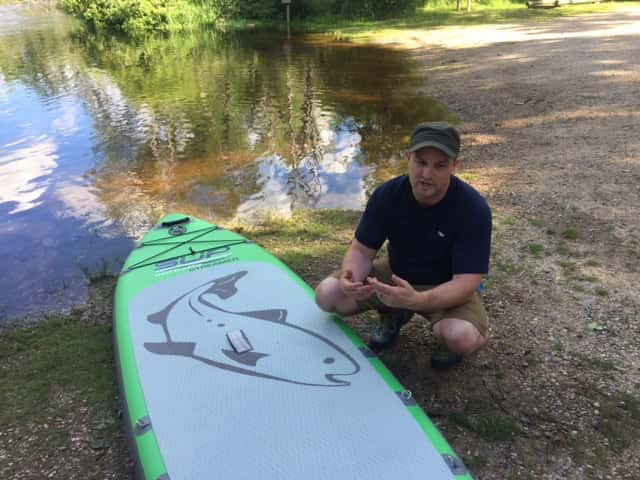 I was a little wary about standing up on the paddleboard, but it was a lot easier than I expected! The board was super sturdy and a lot wider and thicker than I anticipated, and getting up was no problem at all.
By the time we'd all tried out the SUP,  we had all worked up quite an appetite, so we headed back to the campsite, where we found a delicious meal in the process of being prepared.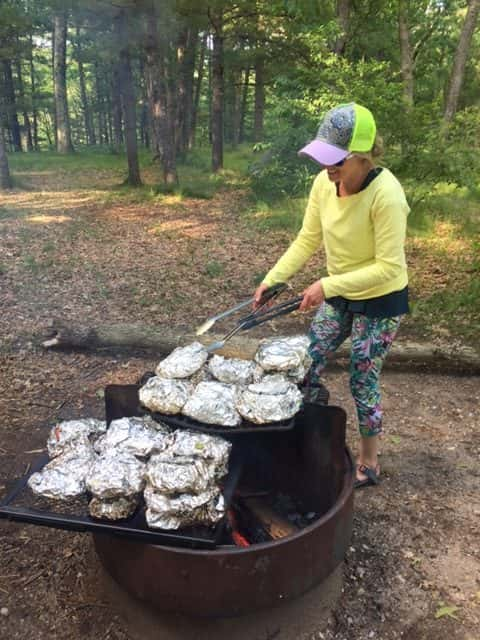 One REALLY nice thing about going on a guided trip like this is that so many of the details were taken care of for us. Just $125 included the guided hike, campsite, paddling, great freebies…AND THE FOOD. We enjoyed "camper packets" stuffed with meat, beans, veggies, and potatoes, which was a great hearty meal to re-fuel us after an active day. We also got to sample some of the ready-to-eat dehydrated meals that Wanderlust carries, and they were delicious!
No need to pack up food or cook on a camping trip left a lot more time for us to hang out around the campfire and get to know the other travelers, eat s'mores, chat and play cards.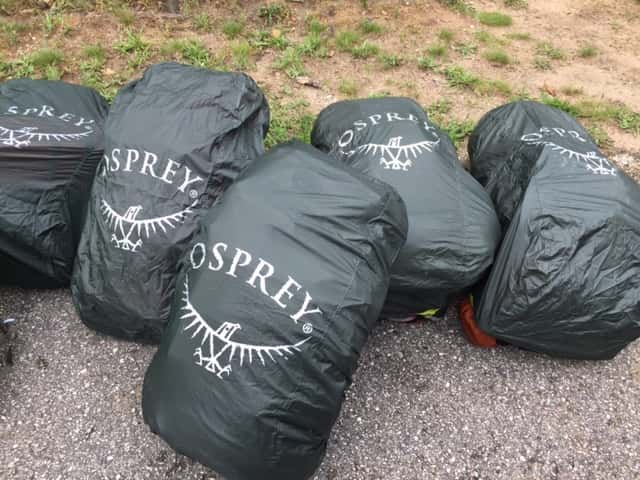 The next morning, it was (sadly!) time to tear down camp and re-pack our backpacks before we headed out on a paddle on the Pere Marquette river. It started to drizzle, so we all pulled out the Osprey rain covers we'd been given and covered our bags. Then we headed down to the river.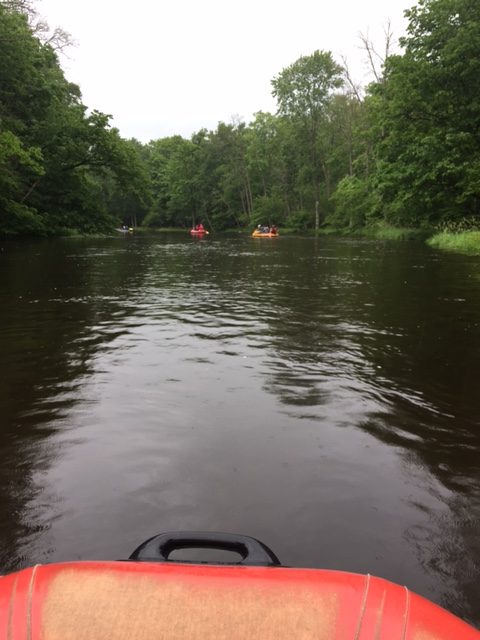 Because the river was too high and fast to kayak safely, we opted to raft instead. Admittedly, none of the three of us had ever rafted before. It took us the first hour of the three-hour trip to figure out how to steer, and we hit plenty of tree branches along the way. Oh, and it rained most of the time. But we had a lot of fun, despite being soaked and working really hard the whole time. ADVENTURE!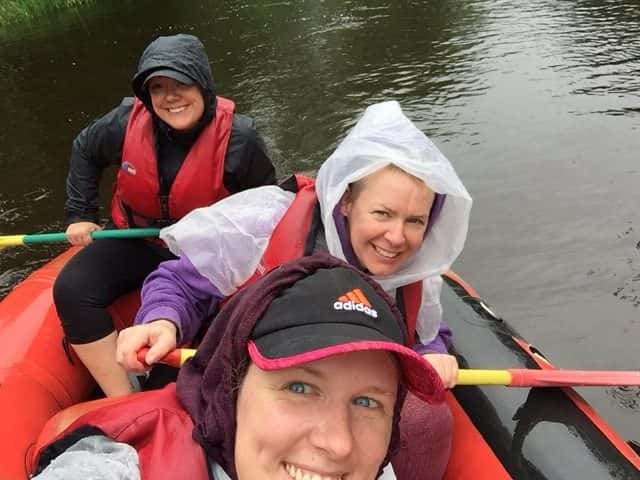 When we got back on dry land, we were greeted by a hearty lunch. Then it was time to go home. I admit, we all got a little sleepy on the bus ride.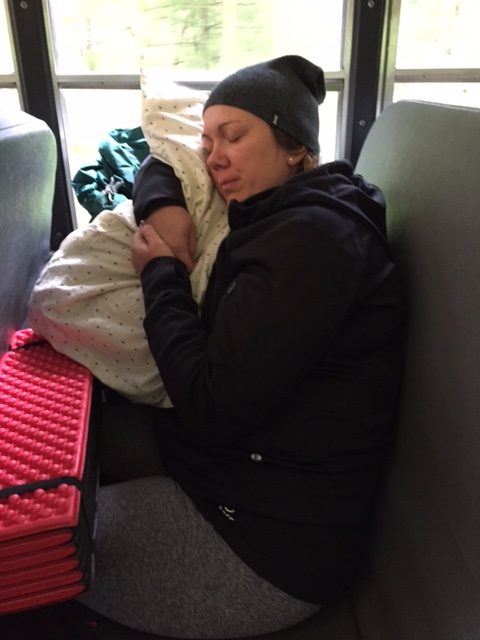 All in all, it was a great trip! Best of all, I feel way more confident about trying to do more adventuring on my own, and Jenna, Kathreen and I already have several camping trips planned for the rest of the summer. We are also totally in when Wanderlust does another adventure trip. We got out into nature, got to try out some cool gear, and had a great time together. What more could you ask for?
One of the best things about the trip was learning about some of the great gear Wanderlust Outfitters carries. Soon I'll be putting up a post featuring some of my favorite gear, so keep an eye out for it!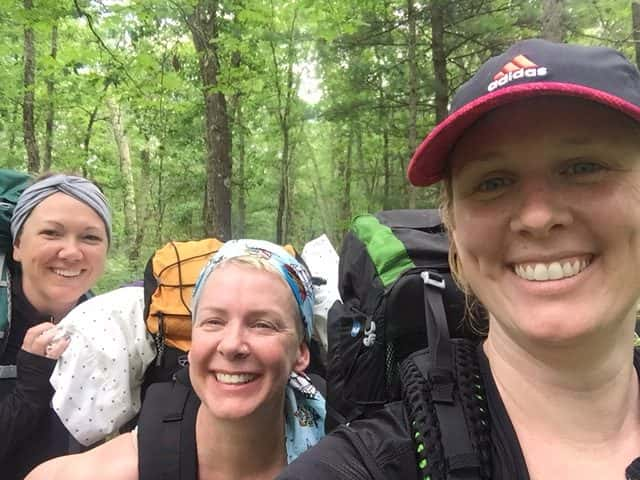 Interested in learning more about Wanderlust Outfitters? Subscribe to their Facebook page to keep up on special offers, sales, and information about their events and products. Or just stop in the store at 120 State Street in downtown St. Joseph!