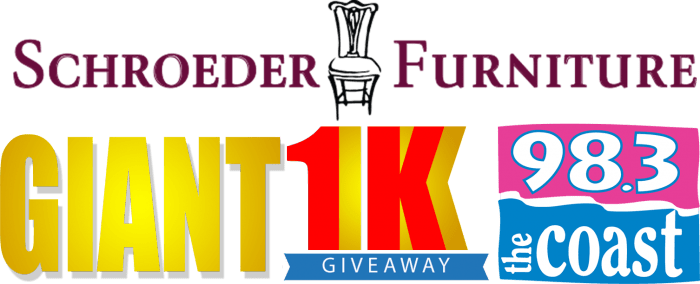 It's big. It's huge. It's GIANT. It's the GIANT 1K Giveaway from Schroeder Furniture and 98.3 The Coast!
This is your chance to win $1,000 for anything in the store! How about a new Serta mattress? Maybe a new dining room set, or a dresser, or a comfy La-Z-Boy recliner? How about outdoor furniture for Spring and Summer?! It's all possible and it's all at Schroeder Furniture!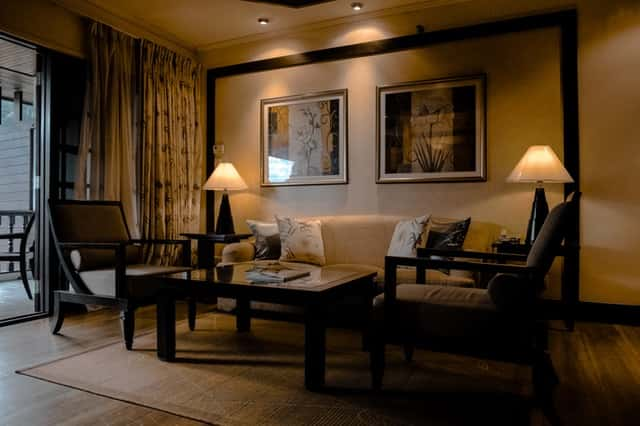 RIGHT NOW through Thursday, March 15, stop by Schroeder Furniture in St. Joe to enter your name in box. You can enter once per day during the length of the contest.
Then, listen to Jonny @ Meagan Mornings each Thursday morning as Scott Schroeder from Schroeder Furniture announces a new qualifier each week!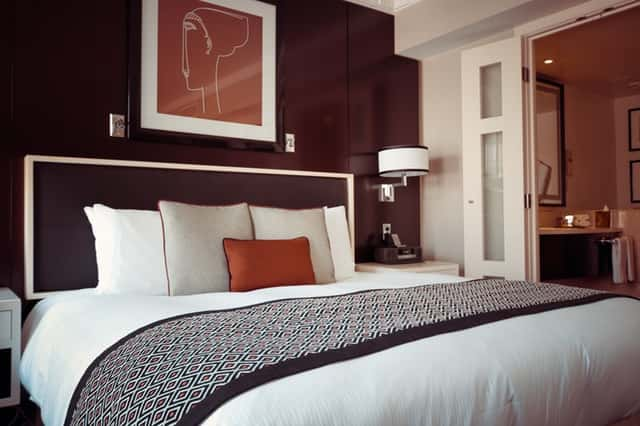 You'll have one last chance to get a qualification at our Last Chance Broadcast, Thursday evening, May 15th. Five qualifiers plus our last chance qualifier will join us for a reverse drawing right inside the store to see who will win the GIANT 1K GIVEAWAY!
Get entered now!
---
WCXT/Schroeder "Giant 1K Giveaway" Contest Rules 2018
The following contest details are applicable to the WCXT/Schroeder Giant 1K Giveaway Contest along with the general rules listed on www.983thecoast.com:
Contest & Registration will take place: Friday, February 9th – Thursday, March 15th
Entry location:
Schroeder Furniture – 1335 Hilltop Rd, St Joseph, MI 49085
1 guaranteed winner
Enter for the chance to win the Giant 1K Giveaway by stopping into Schroeder Furniture and placing a completed registration form into the "Giant 1K Giveaway" registration box. May enter once per day from February 9, 2018 – March 14th. One qualifier will be chosen weekly (5 qualifiers total) and invited to Schroeder on Thursday, March 15th for a live remote broadcast giveaway 5PM – 7PM. Winners will be announced during the Jonny & Meagan Morning Show on February 15th, February 22nd, March 1st, March 8th and March 15th. All qualifiers will also be contacted via phone by 98.3 the Coast.
LAST CHANCE QUALIFIER! – March 15th will be also be the last day to sign up for the chance to become our ONE last chance qualifier. Stop by Schroeder between 5-6:30PM to register for the chance to become the last qualifier. (6 qualifiers total) – The 6 qualifiers will then be entered into a reverse drawing to determine the winner of the Giant 1K Giveaway.
Prize:
$1,000  Schroeder Furniture gift certificate
*Delivery charges may apply
Employees of sponsors & their immediate families* are not eligible to enter or win.
Must be 18 years or older to enter.  One entry per person
* Immediate Family shall include spouses, parents, children, siblings, grandparents, grandchildren and co-habitating "significant other".  Residents of the same household are also considered "Immediate Family", whether or not related by blood or marriage.
*Winner hereby releases and absolutely and forever discharges WSJM, Inc., d/b/a MID-WEST FAMILY BROADCASTING and WCXT-FM, as well as, their respective partners officers, directors, affiliates, attorneys, agents, representatives, and employees, both present and past, from any and all claims, demands, damages, covenants, agreements, representations, promises, liens, liabilities, debts, accounts, reckoning, obligations, costs, expenses, actions, and causes of action in every kind and  nature, whether known or unknown, suspected or unsuspected, whether in law or equity, whether in the past or in the future, that the passengers may now or hereafter have or claim to have against WSJM, Inc. d/b/a MID-WEST FAMILY BROADCASTING and WCXT-FM and other sponsors, based upon or arising out of or in connection with, either directly or indirectly, anything done, omitted, or suffered to be done at any time in connection with the contest or the prize
*Listeners that do not wish to be contacted by the radio station via e-mail or text message should check the OPT OUT check box on the registration form for this contest. Listener information is kept solely for promotional purposes, and is never sold to a third-party.

* Prizes valued under $600 may be given to another individual but not sold. If found in violation, winner of prize will be ineligible from winning any prizes on said radio station for 12 months.