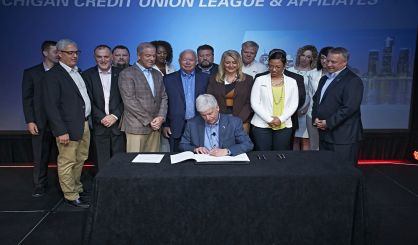 Michigan's credit unions are celebrating some regulatory changes they say will soon make it easier for them. The state law that governs their services and lending capacity — the Michigan Credit Union Act — has gotten its first update since 2003. Tiffany Ford, President of the University of Michigan Credit Union, says the changes will give the not-for-profit cooperatives greater flexibility and allow them to expand. She says despite tough times, the state's credit unions have continued to grow and keep money flowing, and she sees a bright future ahead.
"The Act really grants us the availability to expand across the state, to invest in the state, to employ individuals across the state. So, it is – very much so – limitless."
Credit union small business loans in Michigan have been on the rise for several years, growing 18-percent from the first quarter of 2015 to the same time period this year, according to the Michigan Credit Union League. One of the biggest changes will allow credit unions to offer trust services, which Ford says allows them to better compete with banks and other financial institutions. The changes officially take effect in September.