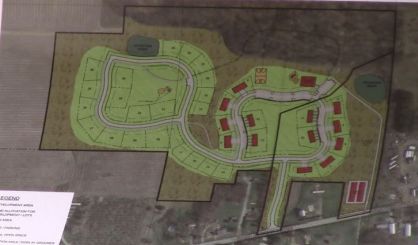 A ribbon cutting ceremony has been held to celebrate the completion of the first phase of a Pokagon tribal village development in Hartford. On Friday, eight housing units that have been finished at a roughly 40-acre site on Red Arrow Highway, not far from the Pokagon's Four Winds Casino Hartford, were unveiled. Tribal Government Manager Jason Wesaw says the village will continue to expand into the future. He notes the Pokagons have always had a presence in the Hartford area, and says it's nice to see progress on providing housing for some of those residents.
"The tribal council's philosophy is we want to create an environment where people can work, play, and stay, so that goes right into it," Wesaw told WSJM. "The casino's only located about a mile away, and the government facility in Dowagiac is located about 30 miles away."
The next phase of construction is still being planned. Wesaw says by the time the overall village is finished, it could have a total of 40 units, a playground, and other facilities. The tribal village in Hartford will be similar to the Pokagon development in Dowagiac.