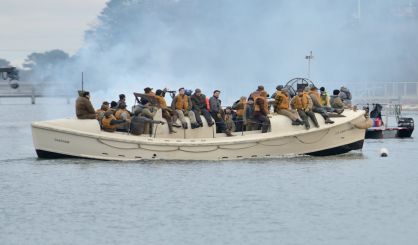 A new feature is coming to the Michigan Maritime Museum in South Haven this Sunday. A 36-foot Coast Guard boat will be welcomed with a day of free admission and a salute to the Coast Guard. The Maritime Museum's Ashley Deming says this particular vessel is noteworthy in that it was featured in the recent film, "The Finest Hours."
"The owner of the boat, Jeff Shook, has been a long-time member of this museum, and he is originally from Michigan — still lives in Fenton, Michigan — and the boat was already coming here for a long-term loan prior to being requested for the Disney movie," Deming told WSJM.
Now that motor lifeboat 36460 has been in its movie, it's coming to the Maritime Museum. Information on the boat will be available at Sunday's red carpet dock reception. It's set to run from 1 to 4 p.m., and everyone is welcome. The event had originally been scheduled for Saturday, but has been postponed to Sunday due to lake conditions.