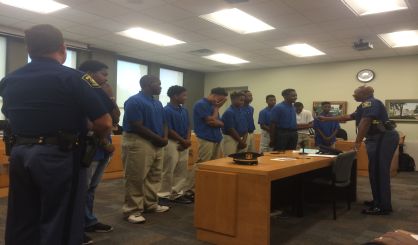 Benton Harbor City Commissioners have saluted 21 young men who graduated from the Michigan State Police Youth Leadership Academy this year. At Monday's meeting, they were introduced to the latest graduates. MSP trooper Maurice Burton says the kids who join are sent to a five-day camp where they do physical training and also take part in sessions to learn a variety of skills.
"They learn different team-building skills and leadership skills with working together with one another at one of the camps in Lansing," Burton told WSJM. "We go into the classroom and we teach about the law and you and dealing with behavior as far as in the classroom and while they're in society and the community."
Burton says state police locally serve at least 20 young men each summer, and have been doing so since 2005. He adds the skills they learn at the camp help them throughout the rest of their lives.