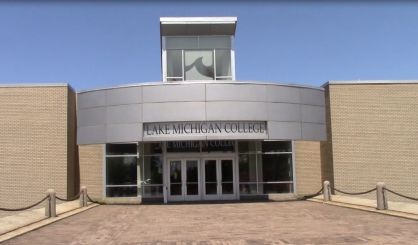 Lake Michigan College is starting from scratch in its search for a new president. The board of trustees on Tuesday opted to expand its search, hiring the Pauly Group, out of Illinois, to help. Board President Mary Jo Tomasini says they're going to make an aggressive recruitment push. She says LMC can continue to function with Dr. Bob Harrison serving as president on an interim basis until they find the right permanent candidate.
"The college most definitely is doing very well with Dr. Harrison acting as the CEO," Tomasini told WSJM. "He is working quite a bit and he's doing what's needed to run the college, but quite frankly, we have a great team and leaders in place."
Tomasini says the board has decided not to pursue previous frontrunner Robert Spohr, of Moncalm Community College. She says he's an excellent candidate, but the board felt the public wanted a fresh search. The board in May fired former President Dr. Jennifer Spielvogel after she'd been on the job less than five months. Spohr had been the second choice in the search that led to the hiring of Spielvogel. The new national search for a president will cost $45,000, which LMC says will be budget neutral, as the college has no full-time president currently in place.