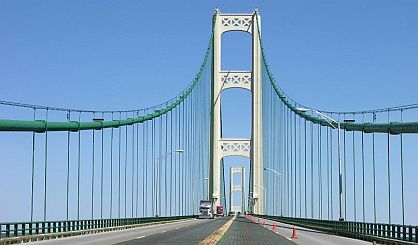 On this day in history, the Mackinac Bridge opened to traffic 59 years ago in 1957. We take it for granted now, but what did people do to go from the lower to upper peninsula and vice-versa before the bridge? Mackinac Bridge Authority Executive Secretary Bob Sweeney has an answer.
"People that were travelling between the peninsulas had to take a state car ferry," Sweeney said. "The state car ferries were in operation from 1923 until the bridge opened in 1957."
Sweeney says the wait to get a ferry to cross used to be 18 hours or longer at times. There are no big plans for this birthday, but they're commissioning a special poster for the bridge at 60.