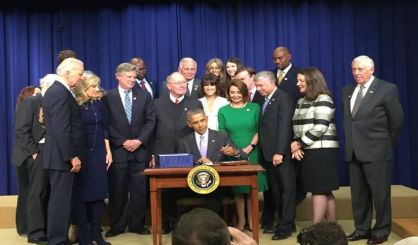 The 21st Century Cures Act is now signed into law. After more than two years of work, Congressman Fred Upton stood by Tuesday to watch President Obama give the package final approval. Obama praised Congress for pulling together to support the legislation in a bipartisan way.
"It is wonderful to see how well Democrats and Republicans in the closing days of this Congress came together around a common cause," Obama said.
21st century Cures speeds up the approval of new drugs while pumping billions into the National Institutes of Health for research.
"We are bringing to reality the possibility of new breakthroughs to some of the greatest health challenges of our time," Obama said.
21st Century Cures also includes extra funding for a "cancer moon shot," an attempt to finally find a cure. Following Tuesday's signing, Congressman Upton tweeted, "We did it."