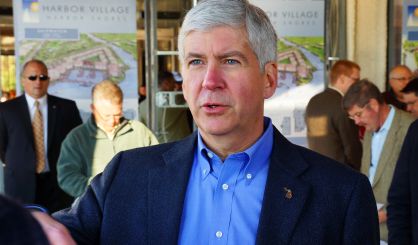 Governor Rick Snyder is promising Fraser residents impacted by the sinkhole on 15 Mile Road that help is coming, though how the mess will be paid for remains unknown. Snyder toured the area with Macomb County Executive Mark Hackel and County Public Works Commissioner Candice Miller yesterday.
"It was important to go and see it first person," Snyder said. "I had an opportunity to meet one of the residents. We need to understand that this impacts real people's lives in terms of having to leave their homes, other challenges, and also the long-term risks associated with this."
The sinkhole is 250-feet long and 100-feet wide, and opened up on Christmas Eve when a sewer pipe ruptured. Snyder says the issue underscores the need for infrastructure repairs statewide. He declared a disaster for the area on Friday.