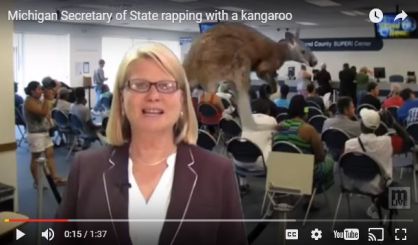 Finally, there is relief for all of those Michigan residents who have been wishing to hear Secretary of State Ruth Johnson rap. Her office has released a new online video in which Johnson and a kangaroo do just that to promote the Michigan Secretary of State website.
"Nobody here has time to lose," Johnson says in the video. "Waiting around is such a snooze," adds the kangaroo.
Johnson says becoming an internet superstar could get more people to use her office's online services.
"We're hoping this kanga-Ruth video goes viral because if we can get more people on that, it would shorten the lines for more people who do have to go," Johnson told WKZO.
Johnson says only about 10% of Michiganders use the website to get things done. The site is ExpressSOS.com. You can find the new secretary of state video here.