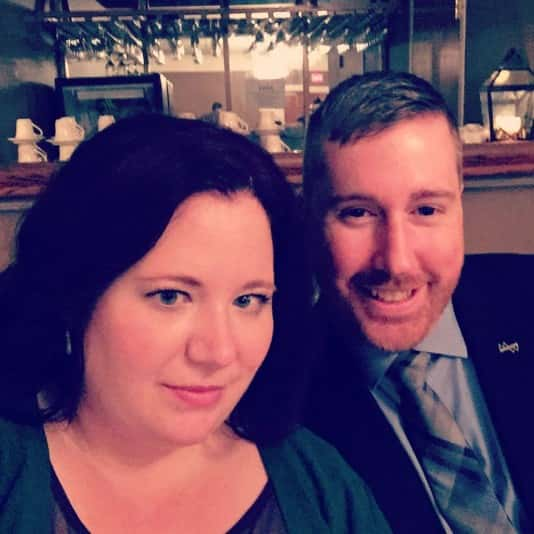 He's going to kill me, but sometimes situations present themselves that make it worth it. This is one of them. If there's one thing I've learned this last year, it's to not take people, or things for granted. To celebrate the ones that are in your life, and let them know how much you care.
Occasionally someone will come in to your life, and over the course of 14 years (seriously, has it been that long?!), becomes someone you genuinely love. They become family, a best friend, sounding board, work spouse, and cat co-parent. That basically sums up my relationship with our very own Zack East. What you might not know is behind the scene, he has a direct part in running your favorite station. And he's REALLY good at it! As hard of a time as I give him, he's one of the hardest working people I know. (Seriously, Steph and I yell at him to go home some nights.) He's also one of the modest.
Tomorrow/Saturday is his birthday, but he doesn't want the spotlight on him this year. In the past I've had the privilege of planning his birthday outing, an opportunity for some of his close friends to get together and celebrate one of our favorite people. We all share stories of how we first met him, or a favorite moment with him over time. I still remember my first conversation with Zack, he had just started working on our sister station ROCK 107 WIRX, and called in looking for information on the staff. Little did I know that would be the first of many memorable chats with him. One that makes me laugh just because of how it went down, happened during one of our first face to face meetings. He thought I was hitting on him and announced loudly "I'm gay!", but I was actually more interested in his friend. One of my proudest was listening the day he came out during the morning show, because FINALLY!!!
If you've ever had the chance to watch someone grow/mature, and work their way up the totem pole, its something special. That's exactly what's happened with Zack, Though he's now technically my boss, which in some situations creates an awkward chat or two. For the most part we have an understanding, work is work, and our friendship is separate.
Z: *sigh* Sarah you need to be doing this… why aren't you doing it?!
Me: Uhmm… yeah, about that…
Z: *gives look*
Two years ago I decided I needed a change in my day job, and made the decision to leave the radio stations on a full-time level. To date, it's one of the hardest decisions I've had to make. I wasn't happy, but the thought of letting Zack down, failing him (and my love for my clients) were the only factors in staying for as long as I did. I actually remember in a round about way asking him for permission to leave. And I cried. Lots. Thankfully, he agreed to keep me around on a part-time basis, and well, ta da here I am! Getting to spend quality time with you, Zack, and the rest of the Coast family and loving every minute!
Over the years we've shared boyfriend break-ups, stories about good and bad dates, a love for hot hair, and walked arm-in-arm to various functions. As Steph put it, family is more than just blood, it's people who you look up to, inspire you, love you. People who make your life better, that you have a connection with, trust, and can call on when you need help. I'm happy to call him my family.
The "Will" to my "Grace", my loves to shop "husband", Cosita's Dad, one of my best friends, and part of my family.
Happy birthday, Zack!!