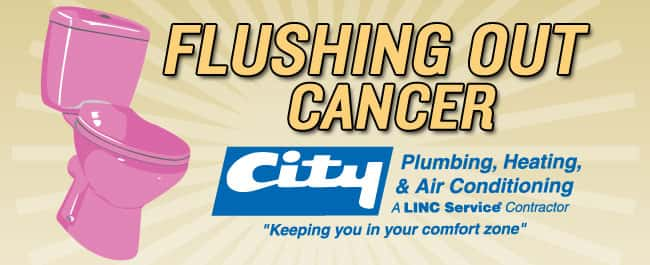 WOW! It was a record year for Flushing Out Cancer, our 3rd annual fundraiser for Susan G. Komen Michigan! The Crew in Blue at City Plumbing, Heating & Air Conditioning hosted the Coast staff and a slew of Celebrity Pink Toilet Sitters who joined us in raising funds all day to "get off the pot" and get on fun motorized toilets to race around downtown, thanks to Vertical Edge Entertainment! Here are this year's Celebrity Sitters:
– JONNY, MEAGAN, SARAH, ZACK & STEPH
– PAT MOODY FROM MOODYONTHEMARKET.COM
– SCOTT MCFARLAND FROM HONOR CREDIT UNION
– FRED WELCH OF RIGHT AT HOME SOUTHWEST MICHIGAN
– DON BROOKFIELD OF BROOKFIELD CHRYSLER DODGE JEEP RAM
– CHRIS FRANK FROM CORNERSTONE ALLIANCE
– SARAH LANCASTER FROM SOUTH SHORE HEALTH & RACQUET CLUB
– BREAST CANCER SURVIVOR JAMIE LEE
– EMILY BROOKS OF ARCADIA GARDENS
– LORI CONRAD-MILLER FROM STUDIO 1 BOUTIQUE
– AMY HEUGEL FROM THE LAKEHOUSE RESTAURANT & BAR
– ANNA MURPHY FROM UNITED WAY OF SOUTHWEST MICHIGAN
– ANDY JANSON FROM HANSON LOGISTICS
– BRADY COHEN FROM THE INN AT HARBOR SHORES
– JONAH McDONOUGH FROM STATE FARM INSURANCE
– KEN KOZMINSKI FROM THE BUCK BURGERS & BREW
– SAXOPHONIST ERICK FISHER
– MISS BLOSSOMTIME KAYLEE CHAPIN
– MARY MORPHEY FROM KINEXUS
– RICK DYER OF EDGEWATER BANK
– MATTHEW FLAHERTY OF POINT-O-WOODS GOLF
– CONNIE ROSS OF CITY PLUMBING, HEATING & AIR CONDITIONING
This year, with your generous help, we were able to raise over $10,000, A BRAND NEW RECORD!!!
There's still time to donate! Just click the button:

Enjoy photos from today's event on our Facebook page by clicking here.
Check out the finale announcement of today's fundraising: