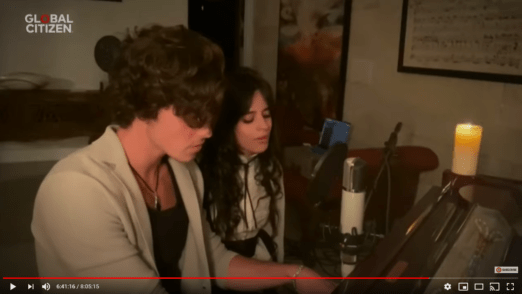 Saturday night's One World: Together at Home hosted by Jimmy Kimmel, Jimmy Fallon and Stephen Colbert, brought together the biggest names in music, entertainment and broadcast journalism to honor those in the front lines of the COVID-19 crisis and offer hope to the world.
It raised more than $127.9 million that will go toward COVID-19 relief efforts.
Lady Gaga who spearheaded the show started things off with the bittersweet song "Smile."
Robin Roberts of Good Morning America honored teachers who have been finding new ways to educate their students.
Stevie Wonder paid tribute to the late Bill Withers with "Lean on Me" and performed his own "Love's in Need of Love."
A very emotional Paul McCartney honored healthcare workers around the world. He urged us to tell our leaders that we need to strengthen our healthcare systems. He performed "Lady Madonna" while pictures of doctors and nurses on the front lines were shown on the screen.
Kacey Musgraves sang her song "Rainbow" accompanying herself on piano. She encouraged people to continue to be safe and stay home.
Usher said we need to think globally and locally, and stressed the importance of supporting charities that are helping those in need. He recognized No Kid Hungry, which is providing meals to 1.7 million children, as well as the CDC's Emergency Response Fund.
Sesame Street's Abby Cadabby encouraged children who are scared to give themselves a hug.
David and Victoria Beckham thanked healthcare workers who are helping to heal the world. They introduced Sir Elton John who sang "I'm Still Standing."
Jimmy Fallon's band The Roots and Jimmy sang "Safety Dance" to a video of healthcare workers dancing.
Actor Henry Golding stressed the importance of testing.
Columbian singer Maluma performed "Carnivale."
Coldplay's Chris Martin sang "Yellow" while Ellen DeGeneres acknowledged the acts of kindness from people around the world. Savannah Guthrie and Hoda Kotb of NBC's Today show talked about those who have been feeding the hungry and homeless. Amy Poehler talked to the head of Covenant House about homeless young people who are in danger.
Camila Cabello and Shawn Mendes performed "What a Wonderful World."
Beyoncé talked about how the virus is affecting the African-American community.
Dr. Tedros Adhanom Ghebreyesus, Director-General of the World Health Organization talked about the Solidarity Response Fund.
Eddie Vedder sang a stirring version of "River Cross."
LL Cool J acknowledged the non-emergency heroes who are still doing essential work, including truck drivers, grocery store workers and delivery people. He thanked the emergency workers who are in the front lines taking care of patients.
Sanam Ahmen, M.D. of Mt. Sinai Hospital in New York City introduced Lizzo, who sang "A Change Is Gonna Come."
Alicia Keyes talked about the communities of color who are being affected and thanked the United Way for helping people of color.
Secretary-General of the United Nations Antonio Guterres called for a cease fire in all the wars around the world so efforts can be concentrated on defeating the virus.
The Rolling Stones, who were appropriately distanced from one another, performed "You Can't Always Get What You Want."
Former first ladies Laura Bush and Michelle Obama talked about the spirit and courage of the American people and offered their gratitude to the front-line workers and those who are keeping America moving.
Keith Urban, through video magic, appeared in triplicate to sing "Higher Love."
Bill and Melinda Gates talked about the importance of getting the vaccine to everyone in the world. They thanked everyone who is doing their part by staying home.
Dr. David Ho of Columbia University honored the scientific community working on finding treatments and a vaccine to fight the virus.
South African doctor Sanele Madela spoke about the challenges South Africa is having during the health crisis. He Introduced Nigerian singer Burna Boy, who sang "African Giant" and "Hallelujah."
Oprah Winfrey also addressed the problems facing South Africa as they deal with the pandemic while also fighting injustice.
Jennifer Lopez sang "People."
Akwafina talked about the doctors and nurses who are with patients who are dying without their families.
Columbian singer J Balvin explained prevention measures in English and Spanish.
Priyanka Chopra Jonas talked about the effect of the virus on refugee and displaced communities.  
John Legend and Sam Smith sang "Stand By Me" from their homes.
Billy Joe Armstrong performed "Wake Me Up When September Ends" to a backdrop of the empty streets of major cities around the world.
Actress Kerry Washington encouraged those struggling with isolation to talk to a healthcare provider or counselor.
Gayle King of CBS This Morning and Tyler Perry talked about the acts of kindness that are taking place during the pandemic.
Billie Eilish and Finneas performed "Sunny."
Pharrell Williams said 91 percent of the world's children are out of school and pointed out that kids in marginalized areas may not return to their education.
Taylor Swift gave an emotional performance of  "Soon You'll Get Better."
Celine Dion, Lady Gaga, John Legend, Andrea Bocelli and pianist Lang Lang closed the show with the song "The Prayer."
To find out how you can help, log onto ACT.me.
Fans can enjoy music from the show any time now, since the concert has been released as a streaming album available on Amazon, Apple Music and Spotify.