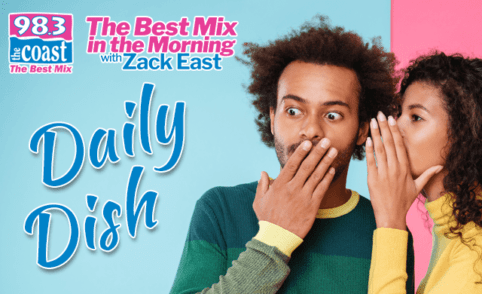 E! News says "Keeping Up with the Kardashians" is going to end in 2021. The family posted: "It is with heavy hearts that we say goodbye to Keeping Up with the Kardashians. After what will be 14 years, 20 seasons, hundreds of episodes and several spin-off shows, we've decided as a family to end this very special journey. We are beyond grateful to all of you who've watched us for all of these years—through the good times, the bad times, the happiness, the tears, and the many relationships and children. We'll forever cherish the wonderful memories and countless people we've met along the way."
The Peacock streaming service has picked up two seasons of the dramatic series reboot of 
Fresh Prince of Bel-Air
. The show, titled 
Bel-Air
, is based on 
Morgan Cooper
's viral video that reimagined the NBC comedy series as a drama. (
Variety
)
---
Ellen DeGeneres will return to the airwaves on September 21st when she'll address all the controversy swirling around her talk show.
In a statement, the comedian says, "I can't wait to get back to work and back to our studio. And, yes, we're gonna talk about it."
The announcement came on the same day another accusation was leveled against Ellen. According to a new 
report
 the star has been "tormenting" her household staffers. Before that, she's been accused of being mean to guests and creating a toxic work environment.
According to the press release upcoming episodes will include such A-list guests as Kerry Washington, Alec Baldwin, Chrissy Teigen, Chris Rock, Amy Schumer and Adam Sandler.
---
Lupita Nyong'o has broken her silence on the death of her Black Panther co-star Chadwick Boseman.
The actress wrote a touching tribute after attending his memorial over the weekend.
Lupita shared a photo of herself with Chadwick and wrote, "I write these words from a place of hopelessness, to honor a man who had great hope. I am struggling to think and speak about my friend, Chadwick Boseman, in the past tense. It doesn't make sense. The news of his passing is a punch to my gut every morning. I am aware that we are all mortal, but you come across some people in life that possess an immortal energy, that seem like they have existed before, that are exactly where they are supposed to always be – here! … that seem ageless…. Chadwick was one of those people."
The Black Panther star died on August 28th at age 43 after a four-year battle with colon cancer.
Podcast: Play in new window | Download | Embed
Subscribe Apple Podcasts | Android | Email | Google Podcasts | Stitcher | TuneIn | Spotify | RSS | More