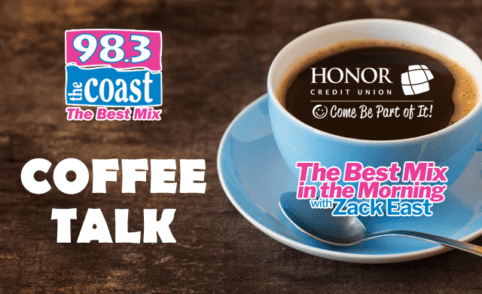 TODAY IS:
World Suicide Prevention Day

National School Picture Day

National Swap Ideas Day

National TV Dinner Day
---
Time for a change … 
A new survey has found that living through COVID-19 has inspired many people to change the way they live … for the better. 56% of respondents say they are re-evaluating their lives and 46% say the pandemic has taught them to place more value on the little things in life. More than 50% of those surveyed said they are developing closer bonds with their neighbors and community, supporting local businesses, volunteering, and giving to charities. Others said they have learned to have a better work-life balance, exercising more and taking better care of themselves. (
SWNS
)
---
Here's another strange side effect to life in the time of coronavirus … 
Seems dentists are seeing an increase in cases of cracked and chipped teeth. The likely reason? People are grinding and clenching their teeth more due to stress and anxiety. "When I reopened my practice in early June, the fractures started coming in: at least one a day, every single day that I've been in the office," said Dr. Tammy Chen. "On average, I'm seeing three to four; the bad days are six-plus fractures." (
Insider
)
---
Do you eat during your lunch break – or use the time to do other things?
 If you're like most people, you are using that time to do everything else – but eat.  A new survey found that just 20% of respondents used their lunch break to actually eat lunch. 80% said they used that time to do everything from running errands, to walking their dog, to browsing social media, to working out.  (
SWNS
)
---
Backpack wine …
 Now you can take your boxed wine on your next hike or other outdoor activity. Franzia has a new 
online shop
 that is selling a backpack designed to hold a 5-liter box of wine. It also has a pour spout for easy access. The online store also sells merch ranging from Franzia-emblazoned boxers to beach towels. (
Food & Wine
)
---
The Social Security Administration (SSA) just released its list of the most popular baby names of 2019.
Here are the Top Girls' Names:
Olivia

Emma

Ava

Sophia

Isabella

Charlotte

Amelia

Mia

Harper

Evelyn
Top Boys' Names:
Liam

Noah

Oliver

William

Elijah

James

Benjamin

Lucas

Mason
Podcast: Play in new window | Download | Embed
Subscribe Apple Podcasts | Google Podcasts | Spotify | Stitcher | Email | TuneIn | RSS | More