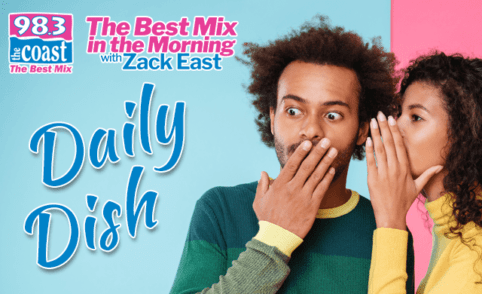 Big changes are in store for Macy's Thanksgiving Day Parade.This year, according to 
CBS News
, "the parade won't go down the normal 2.5 mile route from the Upper West Side. Instead, performances will be contained in a small area in Herald Square for TV cameras only – there will be no live spectators."
---
Apparently Ellen DeGeneres is too toxic for the upcoming Friends reunion.
Earlier this year the comedian was rumored to be doing the big event on HBO Max, but now star Lisa Kudrow is backpedaling on the possibility.
On SiriusXM's Andy Cohen Live, he asked Kudrow: "Is there a host for that? Is Ellen…hosting the reunion?" She said, "Um…I don't know. I don't know that that's been decided."
Recently Ellen has come under fire for allegedly creating a toxic work environment on the set of her talk show and for being a meanie. She's set to address the allegations when her show returns on September 21st.
---
Ryan O'Neal and daughter Tatum have reunited.
In a photo posted by Sean McEnroe, Tatum's 32-year-old son with tennis legend John McEnroe, the father and daughter are seen together for the first time in 17 years.
Sean captioned the photo, "This is one of the most memorable photos of my life. The last time we were all together was at the 30-year Paper Moon Anniversary in 2003. I could cry tears of gratitude that everyone in this photo is still alive and that we were all able to come together again after so many years of hardship. The entire West Coast is burning, but if the O'Neals can reconcile, truly anything is possible. #Reconciliation #Forgiveness #Wholeness #Love #FAMILY "
He also shared a photo of the family from the Paper Moon reunion in 2003.
Ryan and Tatum, who starred together in Paper Moon, have always had a rocky relationship. In 2009, Ryan told Vanity Fair that he mistakenly hit on Tatum at Farrah Fawcett's funeral when he didn't recognize her.
Podcast: Play in new window | Download | Embed
Subscribe Apple Podcasts | Android | Email | Google Podcasts | Stitcher | TuneIn | Spotify | RSS | More