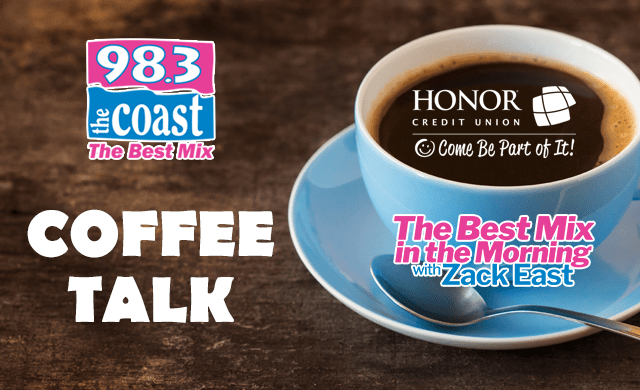 TODAY IS:
National Lobster Day
National Cooking Day
National Comic Book Day
National One Hit Wonder Day
---
According to 
WalletHub's
 latest ranking of the Happiest States in America – which measured a bunch of factors in categories like "emotional and physical well-being," "work environment," and "community and environment" – Hawaii is the happiest state in the country, which is probably no surprise. West Virginia was ranked the least happy state. Michigan didn't make either list of the happiest or least happy states, in case you were wondering.
---
This is interesting …
 Researchers in the U.S. and Denmark have found that fans of horror flicks, alien invasion movies and post-apocalyptic movies are coping better with the pandemic and experience less anxiety regarding COVID-19. (
Study Finds
)
---
Have you tried a weighted blanket?
 If you have a hard time sleeping, it might be worth a try. Researchers in Sweden found that weighted blankets not only led to better sleep for study participants, but they also had more energy during the day and had reduced levels of depression and stress. Researchers think the reason weighted blankets are so effective is because the pressure acts almost like a massage on your muscles and joints. (
Best Life
)
---
We're heading into another weekend of NFL football and if you've ever wondered about the 
amount of money teams will lose because fans aren't in the stands
, just listen to this. For example, the Dallas Cowboys will lose $621 million in revenue this year, the New England Patriots will lose $315 million and the New York Giants will lose $262 million. For sure. Nobody's crying in their beer for billionaire owners. But, you can almost surely bet that beer and hot dog prices will go up AGAIN when fans return to the stands in the future…
---
Have you been making the best of the pandemic at your workplace? Do things seem a bit slow, perhaps even more comfortable? If so, it might not compare to this: Three employees with New York's Metropolitan Transportation Authority have been suspended without pay after officials discovered a secret, underground storage room in Grand Central Terminal that they had turned into their own man cave.
The MTA Inspector General says officials weren't even aware there was a small room under Track 114 and were shocked to find their cozy little nook which included a fridge, a futon, exercise equipment, a microwave, and a flat-screen TV. The workers have been suspended pending further disciplinary actions. (
WNBC-TV
)
Podcast: Play in new window | Download | Embed
Subscribe Apple Podcasts | Google Podcasts | Spotify | Amazon Music | Android | iHeartRadio | Stitcher | Email | TuneIn | RSS | More