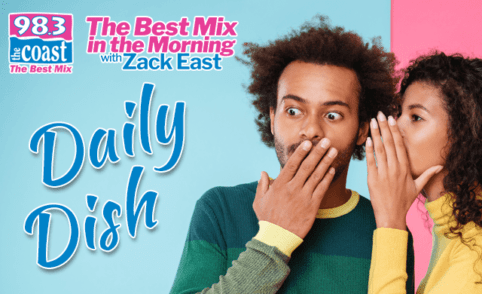 John Legend wrote a lengthy love letter to Chrissy Teigen. Then tweeted it for all to read.
He complimented her resilience. Chrissy is recovering from a miscarriage, which she shared on social media.
John Legend told Chrissy (quote) "We've experienced the highest highs and lowest lows together. Watching you carry our children has been so moving and humbling. I'm in awe of the strength you've shown through the most challenging moments."
The previous night, at the 
Billboard Music Awards,
 Legend dedicated 
his performance
 to Chrissy. He explained the message behind the song "Never Break." He tweeted, (quote) "I have faith we will hold each other's hands through every test. We promised each other this on our wedding day seven years ago. Our love will remain. We will never break." (
Entertainment Tonight
)
---
There wasn't much to choose from for the 2020 Tony Awards, since Broadway shut down in March, but that didn't stop them from announcing the nominees on Thursday.
Jagged Little Pill, based on Alanis Morissette's 1995 album, earned a leading 15 nods. It will compete for best musical against Moulin Rouge! The Musical and Tina – The Tina Turner Musical.
In the acting categories familiar names include Jake Gyllenhaal (Sea Wall/A Life), Tom Hiddleston (Betrayal), Laura Linney (My Name Is Lucy Barton), Audra McDonald (Frankie and Johnny in the Clair de Lune), Mary-Louise Parker (The Sound Inside) and David Alan Grier (A Soldier's Play).
Only 18 plays and musicals were eligible. Last season, there were 34 shows.
The ceremony will be broadcast digitally later this year.
Meanwhile, Broadway will stay closed until at least May 30th.
---
A Holocaust survivor is suing the creators of the Borat sequel, claiming she was tricked into being in the Sacha Baron Cohen movie.
The estate of Judith Dim Evans says the "well-known speaker" was contacted by producers "under false pretenses" and believed she was participating in a documentary about the Holocaust and Jewish culture.
Her estate says Judith, who died this past summer, traveled to Atlanta to be interviewed by Sacha but was never told the movie was a comedy. When she learned the truth, she was allegedly "horrified and upset."
Judith, they claim, refused to be paid for her participation, and now they want her scenes cut from the film and other damages.
The Borat sequel premieres on Amazon Prime next week.
Podcast: Play in new window | Download | Embed
Subscribe Apple Podcasts | Android | Email | Google Podcasts | Stitcher | TuneIn | Spotify | RSS | More