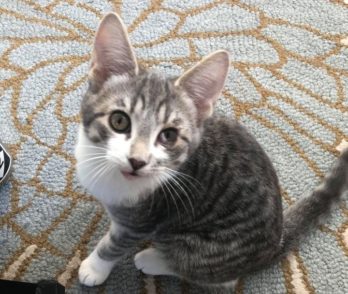 The Mason Jar Cafe brings us Furry Friends Friday.  Meet Gary from Paws of Hope.
Gary is the cutest kitten ever! His estimated date of birth is July 22nd, 2020. Gary is looking for his very own kind and loving forever home, because he is a kind and loving guy.
He was born with his third eyelid (formally known as a nictitating membrane) covering most of his left eye, but has since had minor surgery to reduce it to less than 1/3 of his eye. It might be like this forever or it might decrease even more, but it doesn't bother him or slow him down!
Gary loves to purrrrrr and play with all things that dangle. Some of his favorite toys are soft ones with feathers, soft balls stuffed with catnip, wine corks, and, his most favorite… crumpled up pieces of paper! (He also likes plants, but his foster mom doesn't appreciate it, so he is learning to direct his attention elsewhere). You know those videos where the gentle giant dogs and the cuddly kitty are best friends? Well, that kitty would be Gary! He would love to find a home that has other accepting animals (and/or humans) who would like to play and cuddle with him.
Gary is neutered, up-to-date on all vaccinations, tested negative for Feline Aids and Feline Leukemia, and faithfully uses his litter box. Please contact Paws of Hope at inquiries@pawsofhope.org or 269-340-0272, for more information about our wonderful little guy, Gary.
Podcast: Play in new window | Download | Embed
Subscribe Apple Podcasts | Google Podcasts | Spotify | Stitcher | Email | TuneIn | RSS | More