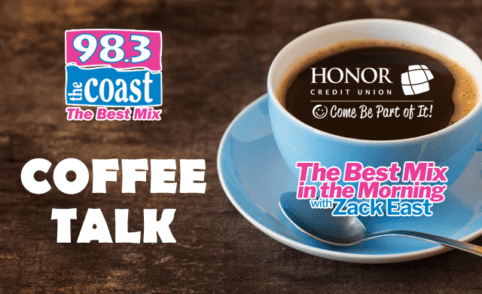 TODAY IS:
Kiss a Ginger Day: A good day to give your favorite redhead a smooch … but only if you live with them, of course. Or you can always send them a virtual kiss …
National Hot Tea Day: A good day for a cuppa, as the English say.
---
Thanks to Ben & Jerry's , now you don't have to feel guilty when your dog stares at you as you eat a pint of ice cream
. Ben & Jerry's is introducing a line of treats for dogs called "Doggie Desserts." The desserts come in little mini-cups and are made with a sunflower butter base. There are currently two flavors: Pontch's Mix, made with peanut butter and pretzel swirls, and Rosie's Batch, made with pumpkin and mini cookies. (
Delish
)
---
Is Dry January already over? 
We're not even midway through the month, but folks are already giving up on their resolutions – including ditching alcohol for the month. But at least they haven't totally abandoned their goal to drink less. Many are opting for a "Damp" month instead — which simply means cutting back on drinking instead of giving it up altogether for the month. (
Insider
)
---
Got brain fog? Go for a jog.
 A French study found that just a quick, 15-minute run will not only give you a boost in energy and happiness … but it will help you think more clearly and be more productive. (
Quartz
)
---
Do you love your slippers?
 Do you spend most of your day in your slippers? Then you'll want to hear this … UK apparel company Bedroom Athletics is looking for a slipper tester to try out their new slippers. You'll need to wear the slippers 12 hours a day, two days a month … for an entire year. And, of course you'll have to provide feedback on the slippers. And for your hard "work" you'll get $450 a month or $5,400 a year. The company is located in the UK, but it appears that anyone in the world can 
apply
. You'll just need to do it before January 31st. (
Travel & Leisure
)
---
For those of you who have a lot of success on dating apps, or know somebody who does,
it seems you're more likely to cheat. A new study found that people who do well on dating apps like Tinder, Bumble, and Hinge are more likely to cheat on their partner because of "self-perceived desirability." Yep, shockingly, people who think they are "all that" are more likely to cheat … (
Science Direct
)
Podcast: Play in new window | Download | Embed
Subscribe Apple Podcasts | Google Podcasts | Spotify | Stitcher | Email | TuneIn | RSS | More