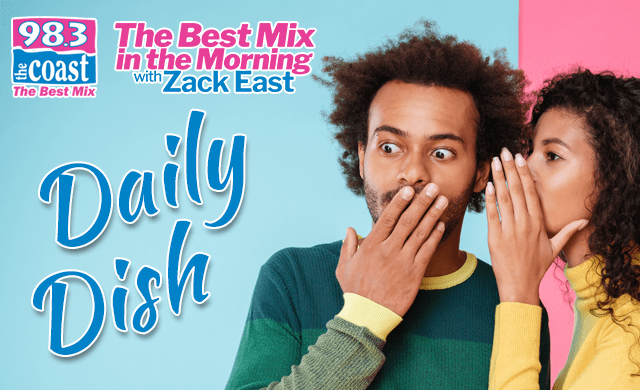 Ryan Reynolds donned a pink beanie and a muscle shirt to get his first dose of a COVID-19 vaccine on Wednesday morning.
The 
Deadpool
 star shared a pic of himself getting jabbed on 
Instagram
. He wrote, "Finally got 5G," joking about a vaccination conspiracy theory.
The quip went over well on Twitter, with one user saying, "If you stand next to any TV you'll get HBO Max and Hulu!"
Just a few hours later, wife Blake Lively said she also got vaccinated. She wrote, "Find you someone who looks at you like I look at the heroic nurse vaccinating me."
---
Kylie Jenner is putting her fortune to good use.
The billionaire has donated $500,000 to create a state-of-the-art hospital lounge for teen cancer patients that was unveiled on Wednesday.
Page Six
 says Kylie donated the money to support her friend, singer-songwriter 
Harry Hudson
, who was diagnosed with Hodgkin's lymphoma in 2017.
The donation, along with money from rockers Roger Daltrey and Pete Townshend's Teen Cancer America, led to the "Hey, I'm Here for You Teen Lounge" at the Monroe Carell Junior Children's Hospital at Vanderbilt in Nashville.
The lounge features video games, a big-screen TV and a meditation room.
In a statement, Hudson said, "I am so grateful for Kylie's friendship and the impact she's had on my life and my cancer journey… She has always been there for me, and together, we wanted to figure out a way to be there for other young people who are battling this disease."
---
Heat Magazine claims Brad Pitt allegedly continues to lean on Jennifer Aniston during his divorce proceedings with Angelina Jolie. A source tells the magazine, "As soon as the accusations about domestic violence went public, Jen was straight on the phone to Brad. She wanted to let him know she would be there for him, no matter what, and she's told him again that she'll appear in court if she has to, although she knows it would never come to that."
---
Woman's Day magazine claims Prince Harry and Meghan Markle are allegedly blaming each other for the bad press they are receiving from their Oprah interview. A source tells the magazine, "Harry has been hostile and sulking while Markle has been blaming him for pretty much everything."
Podcast: Play in new window | Download | Embed
Subscribe Apple Podcasts | Google Podcasts | Spotify | Stitcher | Email | TuneIn | RSS | More