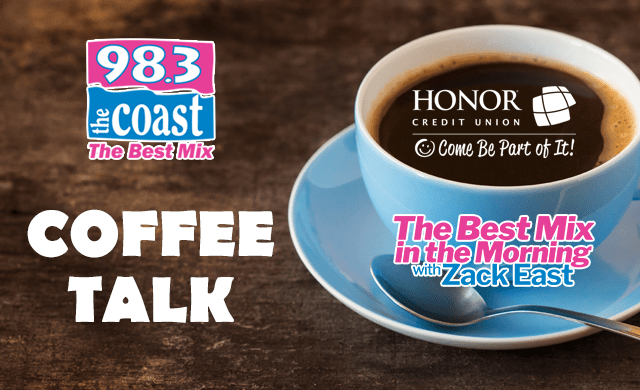 TODAY IS:
WORLD PET MEMORIAL DAY – It's a holiday created by the American Veterinary Medical Association as a day to memorialize pets that have gone on to cross the rainbow bridge

NATIONAL JELLY-FILLED DONUT DAY – As of last count, Americans eat about 10 billion donuts annually. Jelly-filled donuts aren't really 'donuts' since they don't have a hole in the middle. They predate the invention of the donut by a few hundred years. The first known recipe was published in a German cookbook in 1532. Back then, sugar was expensive, so they stuffed them with meat or mushrooms instead (not great with coffee).

NATIONAL BEST FRIENDS DAY – So call up your best friends and hang out!

WORLD OCEAN DAY – Just another reminder of how much junk we put into our oceans and the negative impact humans have on marine life. The United Nations started World Ocean Day in 1992 to raise global awareness of all the ways humans benefit from the oceans and how important it is to use them sustainably.
---
Talk about sweet revenge!
 A bakery in Lufkin, Texas, was flooded with hate mail and canceled orders because they baked rainbow cookies for Pride Month. The owner of Confections took to 
Facebook
 to write, "My heart is heavy. I never thought a post that literally said, 'More love, less hate' would result in this kind of backlash to a very small business that is struggling to stay afloat and spread a little cheer through baked goods." That message hit home with the bakery's neighbors — and people all across the country — who stepped up and beat hate with love … and their wallets. For the next two days, Confections sold out every item in the shop, and when there was nothing left on the shelves, people offered to donate money instead of buying cookies. (
CBS News
)
---
Need another eye because you can't stop staring at your phone?
If you for some reason answered yes to that question, a South Korean designer has you covered. 28-year-old Paeng Min-wook has come up with an invention to help people who can't take their eyes off their phones – a third eye to look at everything else! He created a robotic "eye" that people can strap to their foreheads to keep them in line. The "eyelid" opens every time the user looks down — and when the wearer comes within three feet of walking into something, the device beeps to warn of impending danger. Paeng says, "This is the look of future mankind with three eyes." 
We're doomed …
 (
NY Post
)
Podcast: Play in new window | Download | Embed
Subscribe Apple Podcasts | Google Podcasts | Spotify | Stitcher | Email | TuneIn | RSS | More