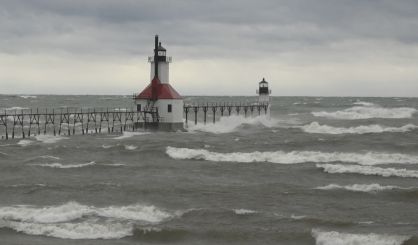 How is Lake Michigan being affected by climate change? That was the subject of a presentation by the League of Women Voters of Berrien and Cass Counties this week in St. Joseph. League of Women Voters Lake Michigan Region President Elizabeth Guscott-Mueller told us there have always been cycles of high and low water levels in the lake, but the frequency of severe weather is battering the lakeshore.
"We've seen along the coastline that people have had to take remedial steps, if they live on the coastline, to keep their bluffs from further eroding and falling into the lake," Guscott-Mueller said. "Some folks have experienced a lack of beach. The water's a little lower at this point, but those impacts, while they're cyclical, they seem to have been exacerbated."
Mueller says communities like South Haven are having to take steps to prepare for things like flooding, noting the wastewater treatment plant has had spills of partially treated water in 2017, 2019, and 2021. She said the city has sought funds for strong pumps to respond. Mueller said communities, especially in Illinois, are facing similar threats due to the wild lake. She recommended education and advocacy to those who are concerned. The League of Women Voters Great Lakes Region website has more information and resources.