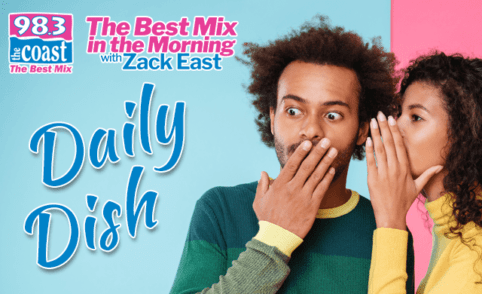 Backstage there were whispers about Wendy's sobriety. Nearly two years ago, she entered a rehab around the time of her divorce. Yet a former employee said most of Wendy's staff is afraid to confront her. (quote) "This is going to play out bad."
On Monday, Wendy Williams addressed the rumors about her health. She said, (quote) "I try to do the best that I can for you. I appreciate you watching, but even after all of these years, it's still work. I guess every day is not perfect, but I'm not a perfectionist. I'm not perfect."
If another taping goes badly like Friday, producers reportedly have evergreen repeat episodes to air in its place. (
E! News
)
---
Dwayne Johnson does not quit in the gym. Even when he's bloodied himself.
On Monday, The Rock shared at Instagram how 
he busted open an eyebrow
. Blood dripped down his face, then he wiped it away and stuck his finger in his mouth. (quote) "I can confirm my blood tastes like [my tequila brand] Teremana, calluses and BlaMoan [black and Samoan] hot sauce."
Johnson blamed the accident on throwing around a 50-pound chain until muscle failure. He joked, (quote) "Sometimes you get lumped up and need stitches. Taste your own blood, keep working out and stitch up later — rules of the house." (
The Hollywood Reporter
)
---
This most unusual season of The Bachelorette has a new twist: Clare Crawley now hints that producers forced her out.
Up until now, the story has been that Clare quit because she and Dale Moss immediately fell in love and wanted to get married. She refused to continue the charade of fake dates with the other men.
Then over the weekend, Clare sprinkled a 
bread crumb trail of "likes
" at Twitter. Each of the posts defended Clare and blamed producers for her exit. There's even a theory that they invited the replacement 
Bachelorette
, 
Tayshia Adams
, to quarantine several days before ousting Clare. She wouldn't have chosen to depart "considering how bad she wanted to be a Bachelorette."
Podcast: Play in new window | Download | Embed... [Read Full Story]