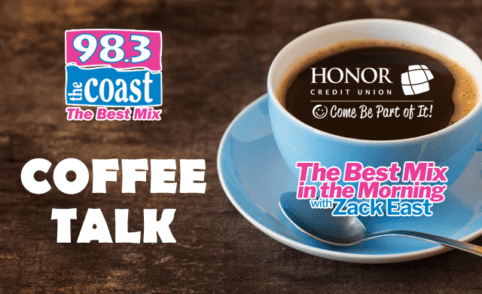 TODAY IS:
Apple Day

Pumpkin Cheesecake Day

Reptile Awareness Day
---
Jeff Bridges 
has been in the news this week, after revealing the sad news that he has been diagnosed with lymphoma. But Bridges is ready to face the challenge – with his wife of 43 years, 
Susan Geston
, by his side. In a recent interview with 
Today
 he revealed that he always carries a photo with him of the moment he and his wife spoke for the very first time. It was taken by the makeup artist on the set of the 1975 movie 
Rancho Deluxe
. Susan, who turned him down when he first asked her out, was a local in the small Montana town where the movie was filmed. 10 years into their marriage, the makeup artist who took the picture sent him a copy … and he's kept it in his wallet ever since.
---
Now here's a costume that really captures 2020 … 
You can now dress as a Franzia wine box. Franzia is selling the costumes for $25 via their 
online store
. You can choose a Chillable Red or a Sunset Blush. (
Delish
)
---
Just when you thought a law school graduate 
going into labor
 while taking the bar exam was impressive, along comes Makenna Myler. The 28-year-old ran a mile last week in just 5 minutes and 25 seconds — an impressive feat for anyone — but she did it while nine months pregnant and just a week shy of her due date. Her husband captured her run on video and shared it on 
TikTok
.
---
47% of engagements happen between Thanksgiving and New Year's – and if you're a millennial or gen-z'er looking for an over-the-top proposal, two hotels in Santa Monica, California, are here for you. Shutters on the Beach and Hotel Casa del Mar are offering a "The Sky's the Limit" engagement package – and when they say the sky's the limit, they're not kidding. The packages, which begin at $9,900, include the engagement ring delivered by a drone and the entire proposal filmed by hidden cameras and a second drone, so you can use the footage on your social media later. The package also includes a one-night stay in an ocean-view suite, a bottle of champagne, dinner for two, and a fully-produced engagement documentary. Not enough for you? You can upgrade the package with a number of options – including having a message on the Ferris wheel at the Santa Monica Pier that reads, "Marry Me." (
Travel & Leisure
)
Podcast: Play in new window | Download | Embed... [Read Full Story]