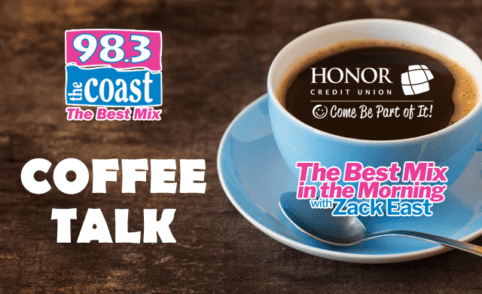 TODAY IS:
National Maple Syrup Day
National Re-gifting Day
---
Did you pick up a bad habit (or four) since the pandemic started? You are not alone. In fact, a new survey found that 53% of the adults polled said they've been drinking more alcohol than usual since coronavirus started. Nearly 50% of adults working from home said they have secretly clocked off the job early to have a drink. And 45% of respondents admitted they'd had a drink during working hours. It's no surprise, then, that 60% of respondents said they were making a resolution to drink less in the new year.
Drinking isn't the only bad habit people have picked up during the pandemic. 40% said they've been snacking more throughout the day, 33% said they weren't eating as many fruits and vegetables as they should, 32% said they were eating more junk food, 32% said they were consuming too much caffeine, 25% said they weren't exercising, 23% admitted they stayed in pajamas all day, and 11% of those working from home said they had overslept on a workday. (
SWNS
)
---
OK, be honest. Are you secretly kinda happy you don't have to host a holiday party this year?
 It's OK. Lots of people feel the same way you do. A survey by Velveeta found that while 56% of respondents said they are disappointed that they'll miss out on holiday parties this year because of COVID, 70% confessed that they are secretly happy they don't have to host a holiday party this year. (
SWNS
)
---
Here's a good reason to get your kid involved in sports … 
A new 
study
 out of Norway found that kids who play sports have a lower risk of depression. "Being active, getting sweaty, and roughhousing offer more than just physical health benefits. They also protect against depression," study author, Dr. Tonje Zahl said.
---
And, some of us look forward to Christmas Dinners quite a bit each year, but one woman looks forward to them so much, she has them every day! A woman from Bristol, England has eaten a Christmas dinner every day for the past 20 years. Jane Wintringham has eaten 7,300 Christmas dinners over the course of her life.
"A roast is my favorite meal – it's a classic British dish. I think it's a balanced meal – you've got meat, carbohydrates and vegetables – plus, I'm cooking everything myself fresh, so I know exactly what's going into my food. I don't eat takeaways or anything like that, which I think are far more unhealthy. I'm a size 10, and have been for all my adult life, so I've not put on any weight through eating so many Christmas dinners.''
Podcast: Play in new window | Download | Embed... [Read Full Story]