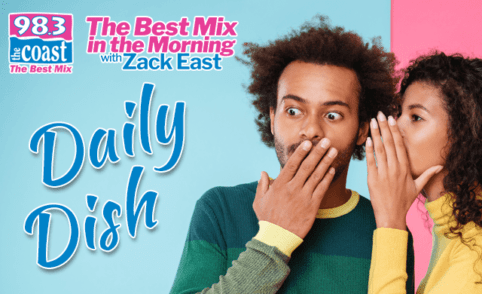 Super Bowl halftime performer The Weeknd
 and his hit pop single "
Blinding Lights
" have 
dominated the 
Billboard
 charts
 for more than a year. Still, he failed to earn a
 Grammy
 nomination. He called the process "corrupt."
The Weeknd is finished with the charades. He's boycotting the Grammy Awards for the remainder of his career. He blamed the sketchy backroom shenanigans. (quote) "Because of the secret committees, I will no longer allow my label to submit my music to the Grammys."
The
 Grammys
 have a terrible history of honoring Black artists. You have to go back to 2008 for the last time a Black musician won 
Album of the Year
. That award went to jazz legend 
Herbie Hancock 
for a tribute album to the music of 77-year-old folk singer
 Joni Mitchell
. (
New York Times
)
---
Sharon Osbourne got a bit miffed as she defended Piers Morgan on The Talk Thursday.
Piers is under fire for criticizing Meghan Markle following her big interview with Oprah Winfrey, but Sharon insists she shouldn't be judged for standing by her pal Piers, who walked off the set of ITV's Good Morning Britain this week and quit the show.
Sharon said, "I feel even like I'm about to be put in the electric chair because I have a friend who many people think is a racist so that makes me a racist."
Then she got into it with co-host Sheryl Underwood, who is Black, saying, "I will ask you again Sheryl. I've been asking you during the break. I'm asking you again. And don't try and cry because if anyone should be crying, it should be me. This is the situation. You tell me where you have heard him say … educate me, tell me when you have heard me say racist things! Educate me, tell me!"
Sheryl explained that it's problematic that Piers believes Meghan's claims are untrue. Sheryl says, "To not want to address that because she is a Black woman, and to try to dismiss it or to make it seem less than what it is, that's what makes it racist."
She added, "But right now, I'm talking to a woman who I believe is my friend and I don't want anybody here to watch this and think we are attacking you for being racist."
---
Matthew McConaughey has teased the possibility of a run for Governor of Texas in the past. Now the Oscar-winner is getting more serious about it.
While speaking on The Balanced Voice podcast this week, McConaughey said a political run "is a true consideration."
Back in November, he said on The Late Show that he had "no plans" to run for governor of Texas. "I have no plans to do that right now," he said at the time. "As I said, that would be up to a lot of other people."
The next election for Texas governor takes place in November 2022.
Podcast: Play in new window | Download | Embed... [Read Full Story]