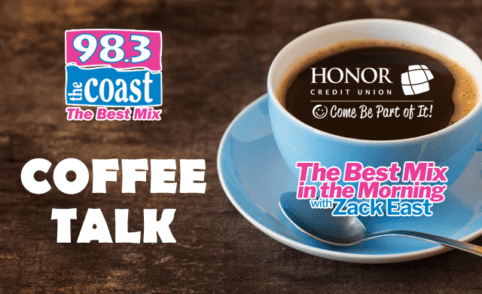 TODAY IS: National Grouch Day
---
Have things gotten boring in the bedroom? It might be time to repaint. A survey by Travelodge found that people who painted their room a caramel color had more sex – three times a week on average. And if you thought painting your room red would equate to more passion … yeah, not so much. People who slept in red bedrooms did it just once a week on average.
---
Let's face it — no one enjoys wearing masks. It makes our faces hot, fogs up our glasses, and forces us to smell our own breath. But help is on the way … thanks to Hormel. Yes, the company known for processed meat. Hormel is now offering bacon-scented facemasks. If you love the smell of breakfast, you can now wear Hormel's Black Label Breathable Bacon mask. As Hormel says, "Don't just eat bacon. Inhale it."
But if you want one (and who doesn't?) you'll have to win one. Head over to 
BreathableBacon.com
 and enter for your chance to score one.
---
Bored with traditional Christmas trees? 
Among the latest trends in holiday decorating are giant cactus Christmas trees. Yep, Amazon is selling artificial trees shaped like a cactus. They come in three sizes – 5, 6 and 7 feet — are pre-lit with LED lights, and come with red and gold ornaments and a big gold bow. (
Insider
)
---
The Los Angeles Fire Department has a new robot — called the RS3 — that battles flames too dangerous for humans.
It looks like a miniature tank and is equipped with a plow nose and water cannon. And, most importantly, it can blast 2,500 gallons of water or foam per minute, with enough power to knock someone off their feet. (
MSN
)
Podcast: Play in new window | Download | Embed... [Read Full Story]