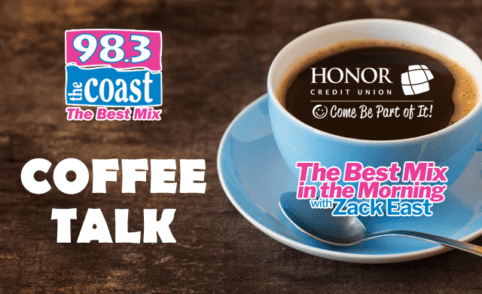 TODAY IS:
National Women's Health and Fitness Day

National Chewing Gum Day

National Love People Day
---
In Covid-19 news, according to a recent Stanford University 
study
, the chances of achieving herd immunity to stabilize the spread of coronavirus is slim — considering less than 10 percent of Americans were found, in July, to have antibodies that fight against it. So, at this point, a vaccine is likely going to be the only solution.
---
An unsurprising new study has found that people have been drinking a lot more
 – and a lot more frequently — since the start of COVID-19. According to a survey by the RAND Corp., heavy drinking among women — four or more drinks within a couple of hours — has increased by a whopping 41%. And, overall, adults over the age of 30 have increased the frequency of their drinking by 14% compared to the same time last year. (
CBS Local Los Angeles
)
---
Move over, Pumpkin Spice Latte, because Candy Corn Latte is here. Monica Preston of 
The Espresso Explorer
 blog has a simple recipe for a Candy Corn Latte that you might want to add to your home brewing menu. And, yes, it involves using real candy corns. (
Pop Sugar
)
---
An American man working in Thailand could face prison time … for a bad Trip Advisor review. In July, Wesley Barnes stayed at the Sea View Resort on Koh Chang Island and left a 
one-star review
 on Trip Advisor, noting, among other things, an "unfriendly staff" and "extremely rude and impolite" restaurant manager. He's now facing two years in prison because the resort owner filed a defamation complaint against him — accusing him of causing "damage to the reputation of the hotel" and claiming Barnes had left similar reviews on a number of platforms. Wesley has been released on bail. (
Insider
)
Did you give your dog a really bad coronavirus haircut earlier this year?
 A new book called 
Scruffy
, by author Shelley Ross, is full of before and after pics of dogs who got some interesting cuts by their owners during quarantine. Not only are the pics adorable – but all proceeds from the book will go to nonprofit The Cure Alliance, for COVID-19 research. (
People
)
Podcast: Play in new window | Download | Embed... [Read Full Story]