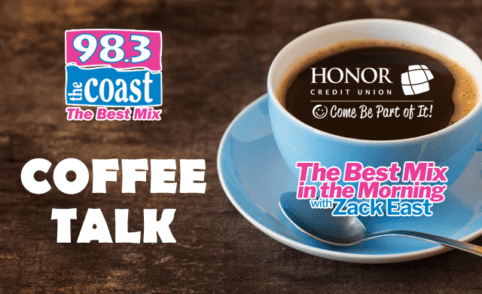 TODAY IS:
National Kiss and Make Up Day

National Banana Split Day

Miley Cyrus took to her Instagram over the weekend to reveal that her grandmother "Mammie" died.

Loretta Finley 

was 85-years old and known to Cyrus's fans through her appearances with the singer over the years, including being on 

The Voice

 in 2016. Cyrus 

wrote

, "Even though you are gone… NOTHING has or ever will change. You will FOREVER be my inspiration and fashion icon. Even more than that, the ultimate model of being a true LIGHT in a dark world."

In another post Cyrus wrote about an appearance with 

Snoop Dogg

, with a caption 

that said

 "Mammie baking brownies with Snoop Dogg — she never knew we snuck weed in them."

---

OK! magazine says Justin Bieber's wife, Hailey, has allegedly warned him to stay away from Kanye West. A source tells the magazine, "Justin comes back from these meetings with Kanye super arrogant and talking in riddles. Plus, Hailey's worried his relationship with the Kardashians would lead to him reconnecting with (former fling) Kourtney Kardashian. Justin's always trying to push the idea that they should spend more time with Kanye — but it makes Hailey uneasy, even if she is close with other members of his family, like Kendall Jenner and Kylie Jenner."

---

Harry Styles tells Another Man magazine that he lived in a "bubble" when he was a member of One Direction. "It's this bubble where things happen around you and it's not real life. It's amazing, but it's not realistic. So when you come out of that, it's nice to catch up with everything … I loved it and it was what I wanted, but I'm enjoying writing at the moment; trying new things. I've been asking myself, 'What do I want to say?'"

Podcast: Play in new window | Download | Embed... [Read Full Story]
Thanks for Listening to 98.3 The Coast! Please register to continue listening. Thank you!