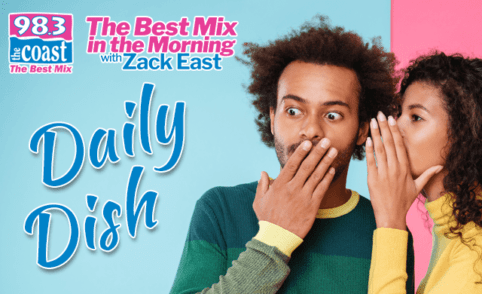 Rick Moranis
 has returned to acting in a strange place. The 
Ghostbusters
 star left Hollywood in the early '90s, but he's back in a commercial with 
Ryan
Reynolds
 for the 
Deadpool
 star's Mint Mobile company. (
Yahoo!
)
---
The Walking Dead
 will end after the upcoming 11th season. 
Variety
 says it "will air over two years and consist of 24 episodes in total beginning in late 2021." AMC has also ordered a spinoff series that will follow Daryl and Carol, played by 
Norman Reedus 
and
 Melissa McBride
.
---
Alec and Hilaria Baldwin have welcomed their fifth child together, a baby boy. On Wednesday, she announced the birth on social media, writing, "We had a baby last night. He is perfect and we couldn't be happier. Stay tuned for a name."
---
Borat 2
, starring 
Sacha Baron Cohen
, has been shot and already screened for a "select few industry types," 
Collider
 reports.
---
Kevin Hart has signed on to host the return of the Jerry Lewis Telethon next month.
The long-running Labor Day Weekend telethon to fight muscular dystrophy, which was hosted by the late comedy legend until 2010, is coming back as a two-hour event on October 24th. The Muscular Dystrophy Association announced that the event, which will now be called the MDA Kevin Hart Kids Telethon, will include celebrity appearances by Eva Longoria, Michael B. Jordan, Jack Black, Usain Bolt, and Josh Gad.
Money raised by the event will benefit the Muscular Dystrophy Association and Kevin Hart's charity Help From the Hart. Streaming information for the program will be announced at a later date. (
NY Times
)
---
Actor Anthony Rapp has sued Kevin Spacey for allegedly assaulting him when he was 14 years old in the 1980s.
Rapp was the first person to come forward with allegations against Spacey in 2017.
Another man also sued Spacey on Wednesday. The plaintiff, identified only as C.D., claims he had sex with Spacey when he too was only 14.
The suit claims that both men have suffered psychological damage.
---
Denise Richards is exiting The Real Housewives of Beverly Hills after two seasons.
Richards joined the reality show's ninth season in 2019 and quickly became a fan favorite. Last season, however, the actress battled with many of the other cast members — including guest star Brandi Glanville, who claimed she had a one night stand with the married actress. Richards denied the accusation and a season-long feud was born.
The news comes as fan petition to have that Kris Jenner join The Real Housewives of Beverly Hills.
Podcast: Play in new window | Download | Embed... [Read Full Story]