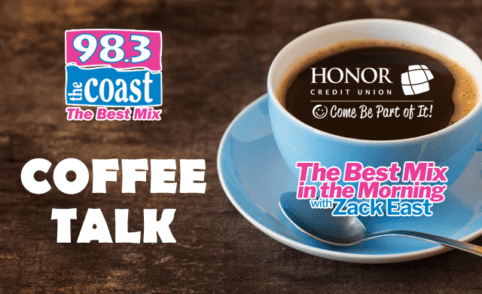 TODAY IS:
National Cuddle Up Day: A good day to snuggle with someone you love.

National Bean Day: A good day to have some beans … but maybe after the cuddling.
---
Did you make a resolution to go vegan but can't imagine not having ranch dressing ever again?
 Well, you're in luck. Hidden Valley is rolling out a vegan ranch dressing. Hidden Valley Plant Powered Ranch is not only vegan, but also gluten-free, dairy-free, and nut-free. (
Delish
)
---
Speaking of food (and drinks) … 
Starbucks is debuting two new drinks to help get us through the rest of winter … Pistachio Latte and Honey Almond Milk Cold Brew. (
Today
)
---
Here's a New Year's health tip for ya …
 It may be hard to fathom drinking anything before coffee in the morning, but consider starting your day with lemon water instead. According to health and beauty experts, not only is it more hydrating, which is an important way to start your day, but it gives your body a dose of vitamin C to keep you healthy while also promoting clear, glowing skin. The acid from the lemons may also help with metabolizing food, resulting in improved weight loss results and digestion. A win-win-win. You can still have your morning coffee, just have some hot or cold water with lemon first. (
Daily Motion
)
---
The NFL is considering packing Raymond James Stadium in Tampa for the Super Bowl with vaccinated healthcare workers. NFL commissioner Rodger Goodell wrote, "We will also use this as an opportunity to promote the importance of vaccination and appropriate health practices, including wearing masks in public settings." The Super Bowl is scheduled for Sunday, February 7th.
---
Remember pen pals?
 Well, it seems that there's a good reason to revive that old tradition. Seems if you're feeling down, lonely, or simply want to connect with new people, writing a letter to a stranger can improve your mood. According to 
Glamour
 writer Lauren Maxwell, "Having a pen pal changed quarantine — it was like my door cracked open and new light beamed through. Visiting the mailbox became a source of joy, and I was reminded that a little connection can go a long way." Interested? Just visit pen pal exchange 
penpalooza
 to get your very own pen pal. According to the site, "The exchange began in Spring of 2020 to connect people during the pandemic, and now has over 7,000 members from over 50 different countries."
Podcast: Play in new window | Download | Embed... [Read Full Story]