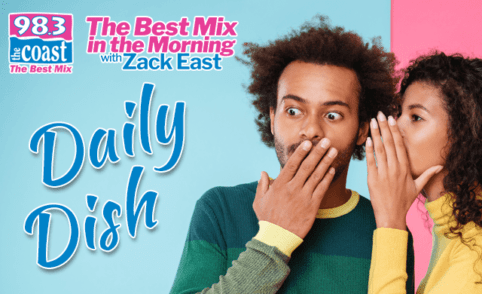 Thursday on Good Morning America, Chris Harrison auditions to keep his Bachelor Nation hosting gig in a taped interview.
The controversial host is on an apology tour for defending the racist actions of Bachelor contestant, Rachael Kirkconnell. She's apparently the person picked this season by Bachelor Matt James. Yet her scandal — attending an Old South-themed party in college — has reportedly torn them apart. James, by the way, is the first black Bachelor on the show.
Good Morning America
teased the interview
 conducted by former NFL player 
Michael Strahan
. He asked why defend Rachael in the first place. Harrison did not offer a direct answer while taking responsibility, (quote) "I made a mistake. I am an imperfect man. I made a mistake and I own that." (
The Wrap
)
---
HBO Max will finally tape the Friends reunion in mid-April. All six cast members will reunite for the streaming special, which had been tapped to help launch HBO Max one year ago.
David Schwimmer confirmed the shooting schedule. He told Andy Cohen on Wednesday, (quote) "In a little over a month I'm heading out to Los Angeles. We figured a way to film it safely. There's a portion of it outside because of safety protocols."
The rumored host, 
Ellen DeGeneres
, will not participate. Schwimmer hesitated at identifying her replacement. Then joked, (quote) "It's not 
Billy Crystal
, either. I can tell you who it's not, but that'll take a while." (
People
)
---
Meghan Markle is a bully, according to former royal staffers.
The Duchess of Sussex was accused of creating a toxic atmosphere for royal aides in a story published in the Times of London — and now Buckingham Palace has started an investigation.
In a statement, the Palace says that it is "very concerned" about the allegations and adds that "accordingly our HR team will look into the circumstances outlined in the article. Members of staff involved at the time, including those who have left the Household, will be invited to participate to see if lessons can be learned. The Royal Household has had a Dignity at Work policy in place for a number of years and does not and will not tolerate bullying or harassment in the workplace."
Meghan is accused of reducing staffers to tears when she lived at Kensington Palace after marrying Prince Harry. In one incident, a royal aide allegedly told a colleague "I can't stop shaking" as they anticipated a confrontation with the Duchess.
On Wednesday, Markle's rep called the allegations a "calculated smear campaign" orchestrated by the Palace ahead of her interview with Oprah Winfrey on Sunday night.
Podcast: Play in new window | Download | Embed... [Read Full Story]