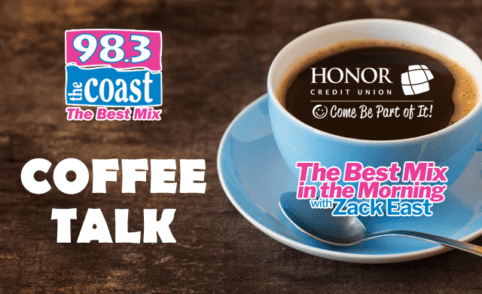 TODAY IS:
Awkward Moments Day: Embarrassing moments happen – today is the day to celebrate them.
---
How much water do you drink in a day?
None? Do you get close to the recommended amount? Do you even know the recommended amount? The "rule" seems to be half your body weight in ounces — more if you're working out, at high-altitude, or if it's hot and you're spending time outdoors. (
U.S.News & World Report
)
Well, a new survey by Essencia Water reveals that most people are not getting enough water every day; in fact, only 37% even drink water daily. The result? We're dehydrated. Seems many people are suffering the symptoms of dehydration – headaches, muscle cramps, and dizziness – and don't even know it. And when they feel those symptoms, instead of reaching for water, they reach for over-the-counter pain relievers. The reason most people don't drink enough water? According to the survey, they say they forget. (
SWNS
).
If that sounds like you and you want to drink more water, there are plenty of apps that can remind you. (
Healthline
)
---
If you were given $30,000, would you spend it on a wedding or on a down-payment for a house?
That's the premise of Netflix's new reality series, 
Marriage or Mortgage
. Two hosts, a real estate agent and an event planner, try to persuade couples to spend that 30K on either a fancy wedding or a down-payment on a house. While for many, it would seem like a no-brainer to use the money for a house, plenty of couples are making the choice to spend their budget on an extravagant wedding. (
BuzzFeed
)
---
It's time to start taking more breaks at work.  A LOT more breaks.
A new study from North Carolina State University found you'll have more energy and actually be better at your job if you start taking lots of "microbreaks" . . . which are each just around five minutes long.
Quote, "It's in a company's best interest to give employees autonomy in terms of taking microbreaks when they're needed."  So start taking lots of five-minute breaks, and if you get called out by your boss, say you're slacking off FOR the company.
Podcast: Play in new window | Download | Embed... [Read Full Story]