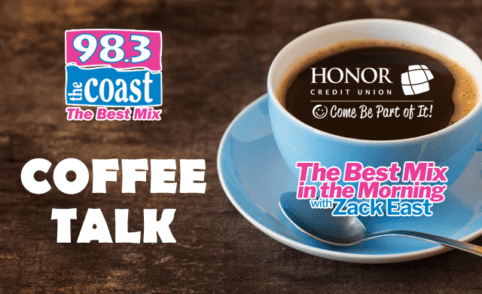 TODAY IS: National iPod Day: Apple introduced the iPod on October 23rd, 2001.
---
So, according to a new 
study
, dogs are more partial to certain kinds of music – specifically, reggae and soft rock. Researchers from the University of Glasgow in Scotland and the Scottish SPCA found that those two genres of music made pups happiest. Other 
studies
 have found that classical music has a calming effect on dogs, while heavy metal increases stress and anxiety. So, it sounds like you should keep The Coast on all day in the house to keep yourself, and your puppies, happy.
---
I'm kinda surprised it took this long, but Bravo is launching a Real Housewives wine.
 Bravo has teamed up with Washington state's Nocking Point Wines to create three wines inspired by the show: The Real House Red, The Real House White and The Real House Rosé. (
Food & Wine
)
---
The Daily Mail says MIT scientists have developed a battery-powered coronavirus mask that heats up to 194 degrees and kills coronavirus germs on contact. The copper mesh mask is designed to be worn by medical professionals in areas where covid-19 exposure is high.
---
It's that time of year … 
time to start thinking about your ugly holiday sweater. And it doesn't get any spicier than a Flamin' Hot Cheetos Ugly Sweater.  For just $60 you can make a fiery statement with a bright orange sweater that features Chester Cheetah inside an orange holiday wreath. Of course, there are flames everywhere. You can find it on 
BoxLunch.com
. (
The Takeout
)
---
And, it appears COVID is already ruining Christmas. Macy's has announced that Santa Claus won't be seeing children at its flagship store in New York City because of the coronavirus. Over 250,000 people see Santa at Macy's every year. The tradition started nearly 160 years ago. Santa won't be greeting guests at the Chicago Macy's either
Podcast: Play in new window | Download | Embed... [Read Full Story]