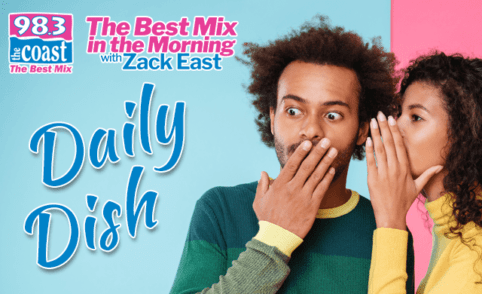 Dr. Oz is a tv hero to millions, but Monday night, he was truly a hero after saving a man at Newark Liberty International Airport.
The TV doc sprang into action when he saw a man in distress and showing signs of heart failure. He cleared the man's airway, administered CPR and eventually shocked him with a defibrillator. There were no other doctors nearby, but a police officer assisted by keeping the area clear.
The man is said to be doing "OK" at a New Jersey hospital. (
TMZ
)
---
Snooki has apparently come out of retirement for another season of Jersey Shore.
The reality star had said she was done with the show back in 2019, but Snooks was spotted being filmed during a lunch with co-star Angelina Pivarnick last week in Florham Park, New Jersey.
TMZ
 says that "it's unclear how involved Snooki's gonna be in the MTV reality series — guest appearance or full cast member."
Snooki could be on the show to promote her gig hosting Beach Cabana Royale on Discovery Plus.
---
Comedian Chris D'Elia is in more trouble.
This time, the comedian is being sued by a woman who claims he took her virginity when she was only 17 — and when she told him her age, he allegedly said it was "hot."
According to 
TMZ
, the unnamed woman is suing D'Elia for violating federal child sexual exploitation and child pornography laws. She's not suing over the fact they had sex, because in Connecticut the age of consent is 16.
The woman is suing Chris for damages and asking a judge to stop him from possessing or taking any action regarding the alleged pornographic images of her.
His spokesperson says, "Chris denies these allegations and will vigorously defend himself against them in court."
Chris has recently been accused of grooming underage girls online and allegedly exposing himself to several women.
Podcast: Play in new window | Download | Embed... [Read Full Story]