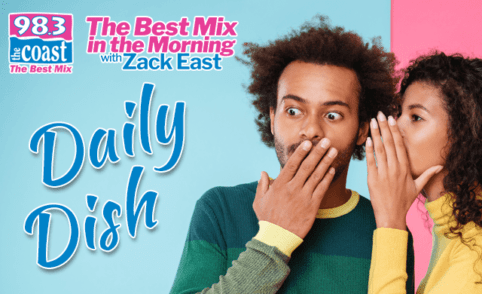 Rebel Wilson reveals she was once kidnapped at gunpoint.
The actress told the story while on the series Straight Talking for Britain's Sky One and was asked about a time when she experienced the most fear.
The Australian star said, "There was one time in Africa where I got kidnapped." She said she was traveling in a truck through rural Mozambique with a group of women when another vehicle pulled up beside them. Men with "big guns…poured out" and "started making demands." They then took Rebel and the women to a "house in the middle of nowhere."
The actress said she surprised herself, because she was "good in a crisis" and ended up being her group's team leader. "They sat us down. I said, 'everybody link arms.' I'm petrified in the night they might want to take one of the girls or something. Luckily, we weren't harmed."
The next day, the women were let go. She recalled that "they came and said, 'oh, your truck is ready now you can go… So we just didn't ask any questions, we got back on that truck and just got back out of there and then crossed the South African border a few hours later."
Looking back, Rebel said she now thinks she knows why they were allowed to leave. "I think maybe those guys used us to smuggle illegal things in the bottom of the truck."
She didn't say when this happened.
---
Jason Sudeikis is praying Olivia Wilde is just going through a Harry Styles "phase."
A source tells 
Us Magazine
, "Jason's had no option but to step back and let Olivia do her thing, but he [has his fingers crossed] that this is just a phase and that Olivia will snap out of it or that Harry will get bored and move on before too long."
The insider adds that Jason is "desperate to" win back his ex so they can "repair their family."
The timeline of Jason's breakup with Olivia isn't clear. A source close to Jason says, "Whether Harry knows it or not, he was a reason for the split." A Styles source, however, inists the former One Direction member "did not break up an engagement."
---
Jeopardy! has announced more guest hosts.
Journalist Katie Couric, NFL star Aaron Rodgers, executive producer Bill Whitaker and actress Mayim Bialik will follow current host Ken Jennings — who replaced Alex Trebek following his November death.
Couric will be the first woman to host the game show.
Jennings, who holds the record for the longest Jeopardy! winning streak, started his run on Monday.
According to a press release, "As a part of each guest host's appearance, a donation will be made to a charity of their choice. The amount donated will equal the cumulative winnings of the contestants that compete during the weeks they serve as guest host."
More guest hosts will be announced later in the season.
While a permanent replacement has not been announced, word has it that Jennings is the frontrunner.
...
[Read Full Story]