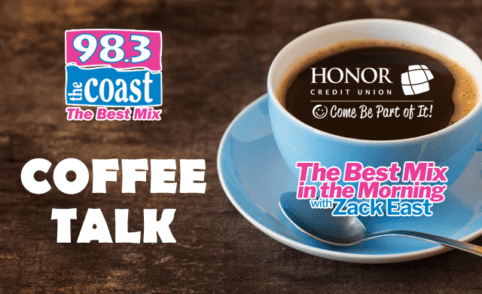 TODAY IS:
Columbus Day

Native American Day

National Farmers Day

National Kick Butt Day
---
As if 2020 can't get any more bizarre, a sexy  hand sanitizer costume exists.
 Yep, online costume seller 
Yandy
 is selling a sexy hand santizer costume for $69.95. Here's how they describe it on the website: "Wash away the dirt of the day, and soak in that squeaky clean feeling in this exclusive Hand Sanitizer costume featuring a mint green bodysuit with a scoop neckline, a Yandy Hand Sanitizer print with 'Kills 99.99% of germs,' a pink Yandy logo, and a matching clear vinyl flared dress with velcro straps attached to the skirt."  (
NY Post
)
---
Coronavirus has changed a lot of things … including our living situations. 
According to the 
Pew Research Center
, 52% of Americans in their 20s are currently living with their parents – many having moved back home because of the pandemic. It's the largest number of 20-somethings living with their parents since the Great Depression. (
Insider
)
---
A 10 year-old Jamestown, Indiana boy is being hailed as a hero for raising money for cancer victims. Charlie Jones is selling ugly Halloween pumpkins. He planted the pumpkins last Spring when he and his entire family were sick with the coronavirus. Charlie got his gourds to look ugly by using seeds from rotting pumpkins. He's donated $720 to the Boone County Cancer Society (WTHR)
---
This is a great story …
 Last year, 10-year-old Vivian Anderson of Tampa, Florida, was in the car with her mom when she saw a "Men Working" sign. Vivian asked her mom, "Why is there a sign that says 'Men Working,' but men and women are both working?" Her mom, Mary, suggested she write a letter to newly elected Mayor Jane Castor, and let her know her concerns. It took almost a year, but on September 30th Vivian received an invitation to City Hall to meet with the mayor and review the newly revised signage, which now states, "Workers Present." She was also gifted a hard hat and a signed street sign that reads, "Vivian M. Anderson Way," which now hangs in her bedroom. "She was very excited," her mom said. "I think it gave her a lot of confidence that people will listen to kids. Kids can make a difference." (
GMA
)
Podcast: Play in new window | Download | Embed... [Read Full Story]