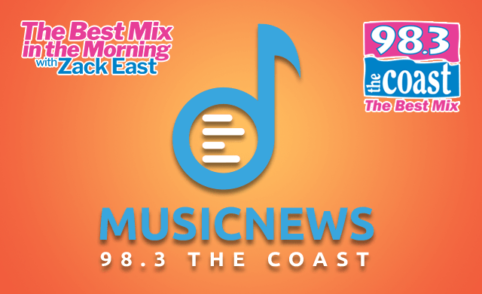 Blake Shelton is making sure nobody ever calls him a "Groomzilla" — by taking a totally hands-off approach to his wedding to Gwen Stefani.
The country superstar tells 
USA Today
 that Gwen is at the controls of every detail surrounding the ceremony. He says "I want her to do all of that stuff and handle it because it's going to be great. She's in the middle of planning the thing, and she's always so mindful of me. She's like, 'Hey, I don't want to just take this thing over.'"
Blake's particularly sure that his California girl bride has a better handle on what to serve guests. As he puts it, "If I was picking our meal, it would just literally be everything fried. French fries, chicken tenders—you know, all of that stuff. I think she knows that it would be a pretty classless wedding if I was in control."
---
Last year, when Sam Smith released their latest album Love Goes, touring was shut down, so they performed their new songs as a streaming event, live from London's legendary Abbey Road studios.  But if you missed it then, you can now stream it on Netflix.
"This was such a special night for me. Getting to play in one of the most historic studios with my incredible band…was magical," Sam writes in a note to fans.
"Love Goes is the celebration of me coming home to myself," they add. "Performing some of the songs for you all for the first time was an unforgettable experience, and I'm so happy we get to relive it. Get comfy, make yourself a cuppa and enjoy."
In addition to new material from Love Goes, the performance features Sam performing previous hits like "Stay with Me," and a cover of Cyndi Lauper's "Time After Time."
Love Goes: Live at Abbey Road Studios
 is available for streaming, and is also available as a live album on 
Sam's website
, along with special merchandise commemorating the event.
---
Over the years, 
Katy Perry
 has worn some eye-popping outfits: Just her 
American Idol
 wardrobe alone is pretty vast, not to mention some of the get-ups she's 
worn on stage
.  And Katy says one day, she hopes to pass some of those clothes onto her daughter,
 Daisy Dove
.
"I think about it all the time," Katy told 
POPSUGAR
, noting that Daisy will get "carte blanche" to raid her closet. "I do a lot of cleanups, but I do have some stuff always that I'm thinking about."
Daisy will turn a year old in August.  In December, Katy will have even more outfits for her to choose from, as she kicks off her highly anticipated Las Vegas residency, PLAY.
Podcast: Play in new window | Download | Embed... [Read Full Story]