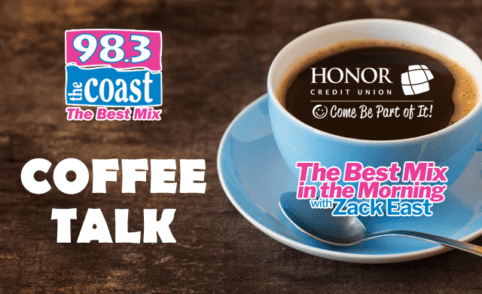 TODAY IS:
Pretzel Day

Get Organized Day
---
What's your biggest worry on a first date?
 According to a new survey, people are most concerned about awkward conversations. 39% said that was their biggest worry on a first date – more than lack of chemistry (25%) and rejection (15%). (
Health Digest
)
---
Got old socks you don't wear anymore?
 Don't throw them away. Apparently while 80% of people donate their old clothes, 91% simply throw away their socks. Well, Colorado-based company Smartwool wants your old socks to turn into dog beds. You can drop off your unwanted socks in collection bins at 
select retailers
 in 42 different states till May 2nd. You can also mail your socks directly to Smartwool, but you'll need to order something and then they'll send you a bag to mail them in. (
Martha Stewart
).
---
Is looking in the mirror your friend or your foe?
While some people enjoy looking at themselves in the mirror, we would wager that the majority don't. If you're one of those that don't, maybe you should start. According to a new 
study
 from Japan, seeing your face in the mirror or even in a selfie, triggers feelings of pleasure in your brain.
---
Has COVID made you crowd averse? 
Seems one of the effects of the pandemic is that people can't deal with crowds anymore. A new 
survey
 found that more than 65% of respondents said because of the pandemic they can no longer stand being around crowds of people and will do everything to avoid crowded spaces and standing in line, especially at the airport.
---
Speaking of post-COVID stress …
 While we're all anxious for the pandemic to be over, lots of people are also dealing with the anxiety of getting back to real life. There's even a name for it – "re-entry anxiety." Whether it's stressing about going back to an office instead of working from the comfort of your home, or having to commute again, or just having to deal with attending social events and gatherings again, "re-entry" anxiety is very real. (
Self
)
Podcast: Play in new window | Download | Embed... [Read Full Story]