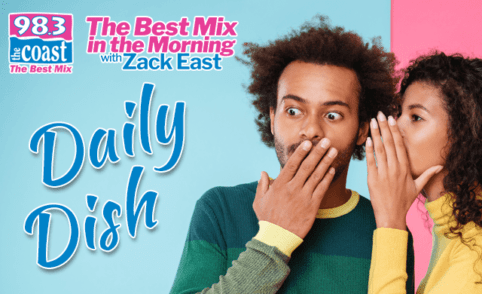 Miley Cyrus has plans for New Year's Eve. She'll perform on ABC's annual celebration Dick Clark's New Year's Rockin' Eve With Ryan Seacrest 2021.
Jennifer Lopez
 headlines the event from New York City's Times Square. 
Cyndi Lauper
 will duet with
 Billy Porter 
from the
 Kinky Boots 
songbook. 
Ciara
 hosts the celebrations in Los Angeles, where Miley might be on New Year's Eve. (
Billboard
)
---
Mossimo Giannulli has been placed in solitary confinement, but the fashion mogul didn't do anything wrong.
A source tells 
People
 magazine
that 
Lori Loughlin
's husband has been put in "COVID-19-related protective custody as he continues to serve his five-month prison sentence for his involvement in the high-profile college admissions scandal."
On Friday, his son Gianni revealed that his father "has been locked in solitary confinement for one full month" and has been "only let out every 3 days for a few moments to shower."
Mossimo was booked into Lompoc federal prison, which reported hundreds of COVID-19 cases in the summer, on November 19th.
---
George Clooney finds it physically painful to watch 'Batman And Robin'. The New York Post quotes him as saying, "The truth of the matter is, I was bad in it. Akiva Goldsman wrote the screenplay, and it's a terrible screenplay, he'll tell you. I'm terrible in it, I'll tell you. Joel Schumacher, who just passed away, directed it, and he'd say, 'Yeah, it didn't work.' We all whiffed on that one". People magazine, citing 'The Howard Stern Show', claims George Clooney told Ben Affleck not to play 'Batman'. George says, "Ben called me up and said he'd been offered 'Batman' and asked if he should take it. I told him no to go near the role. Ben didn't listen to me, and he ended up doing a great job and I was wrong. But hey, I can only impart my wisdom from my experience and I just said, 'Don't have nipples on the suit.' "
Podcast: Play in new window | Download | Embed... [Read Full Story]