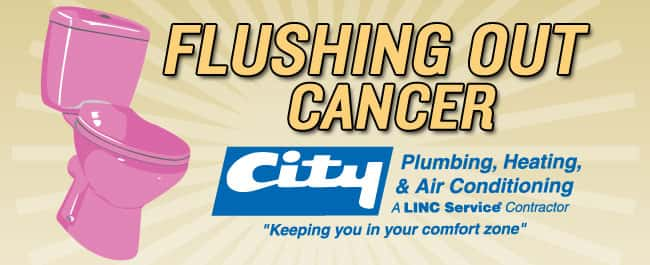 Benefiting:
CITY PLUMBING, HEATING AND AIR CONDITIONING AND 98.3 THE COAST ARE GEARING UP FOR OUR FOURTH ANNUAL FLUSHING OUT CANCER!
FRIDAY, OCTOBER 19TH, 6AM-6PM
HERE'S HOW YOU CAN HELP … EACH DIGNITARY WILL SIT ON THE PINK TOILET FOR A ONE HOUR SHIFT. THEY CAN'T LEAVE THE PINK TOILET UNTIL THEY RAISE AT LEAST A COUPLE HUNDRED BUCKS IN DONATIONS!

WE'LL HAVE DIGNITARIES ON TWO PINK TOILETS TO HELP US RAISE MORE!
JUST STOP BY AND DONATE TO HELP GET YOUR FAVORITE PEOPLE OFF THE PINK TOILET! ALL DOLLARS RAISED GO TO BERRIEN COUNTY CANCER SERVICES AND SUSAN G. KOMEN MICHIGAN!
AFTER OUR CELEBRITIES SUCCESSFULLY RAISE CASH TO GET OFF THE POT, THEY CAN TAKE A VICTORY LAP AROUND THE BLOCK IN FUN 'RACING TOILETS' PROVIDED BY VERTICAL EDGE ENTERTAINMENT!


-BROUGHT TO YOU BY THE CREW IN BLUE AT CITY PLUMBING, HEATING & AIR CONDITIONING, KEEPING YOU IN YOUR COMFORT ZONE. A CARRIER FACTORY AUTHORIZED DEALER. AND 98.3 THE COAST!
Our schedule of dignitaries is as follows:
– JONNY, ZACK & STEPH
– PAT MOODY FROM MOODYONTHEMARKET.COM
…AND MORE!
Take a look at our fun video featuring our friend and event organizer, the Late Great Denise Bohn: