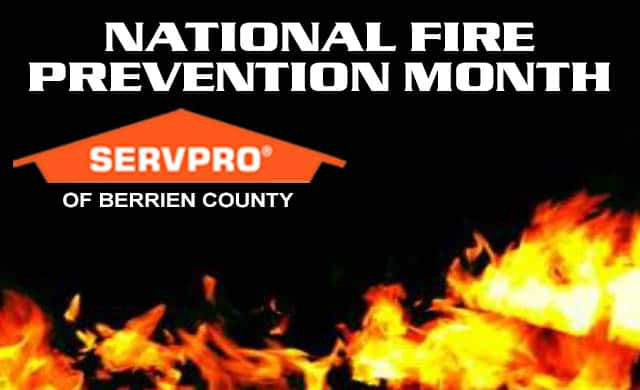 The National Fire Protection Association says about 3 out of every 5 fire deaths happen in homes with no working smoke alarms. SERVPRO of Berrien County is helping prevent future tragedies. In recognition of National Fire Prevention Month,  SERVPRO of Berrien County is donating new smoke detectors on a first come basis at area Fire Departments.   
Don't add to sobering statistics.  Be sure your home has a working smoke detector courtesy of SERVPRO of Berrien County, and brought to you in part by Mid-West Family.
Smoke Detectors available at fire stations and police agencies listed below:
Baroda
Benton Harbor
Benton Township
Berrien Springs/Oronoko Township
Bertrand Township
Bridgman
Buchanan City
Buchanan Township
Coloma
Galien Township
Lake Township
New Buffalo City
New Buffalo Township
Niles City
Niles Township
North Berrien Fire
Pipestone, Berrien Twp./Eau Claire
Royalton Township
St. Joseph Charter Township
St. Joseph City
Sodus Township
Sister Lakes
Three Oaks
Watervliet
Weesaw Township


For more information, call SERVPRO of Berrien County at 269-925-6841.
Other Fire Prevention resources:
– Fire Prevention for Kids:
http://www.sparky.org/
– Families: http://www.nfpa.org/safety-information/fire-prevention-week/for-kids-and-families