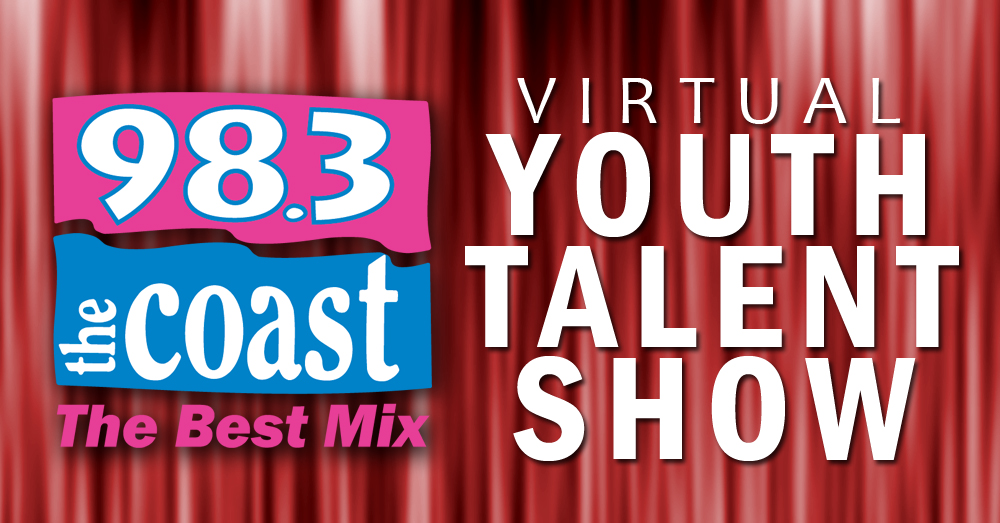 The 2020 Winners:
In the 7-10 age group:
1st place – Eva Olson, age 8, singing I Choose You by Alessia Cara ($200 prize winner)
2nd place – Violet Glisson, age 8, singing It's A Hard Knock Life from Annie ($100 prize winner)
3rd place – Elaina Tollas, age 9, singing Blown Away from Carrie Underwood ($50 prize winner)
In the 15-18 age group:
1st place – Grace Newman, age 15, signing and performing a Disney Mashup ($200 prize winner)
2nd place – Alana Voglewede, age 15, singing Pur Dicesti, O Bocca Bella by Antonio Lotti ($100 prize winner)
---
Our Coast Virtual Talent Show couldn't happen without our sponsors:

The Children's Center in St. Joe and Niles, currently offering childcare for Virtual Learners and FREE preschool to those who qualify!

And Xtreme Wireless, your Boost Mobile dealer. On 11th Street in Niles and M-139 in Benton Harbor.
---
2020 98.3 THE COAST VIRTUAL YOUTH TALENT SHOW
SPONSORED BY: THE CHILDREN'S CENTER & XTREME WIRELESS
AUDITION WINDOW: Monday, August 24, 2020 through Friday, September 11, 2020
HOW TO AUDITION: From Monday, August 24, 2020 at 12:00AM through Wednesday, September 11, 2020 at 11:59pm, Berrien County contestants can submit their RAW, UNEDITED, UNMODIFIED VIDEO of MINUMUM ONE MINUTE / MAXIMUM FIVE-MINUTES only at the designated contest page at 983thecoast.com and in the appropriate age group for the contestant(s).
Voting will be open between Monday, September 14 through Sunday, September 20 for the community to choose which talent video they like best in each age category. A panel of judges will take video votes into consideration when making the final winner decisions in any contests. ANY QUESTIONS? CALL MATT: 269-925-1111.
Full Rules & Qualifications:
Person(s) must be between the ages of 7 and 18 years by September 11, 2020. Person(s) must reside in Berrien County ONLY. Entries will be accepted Monday, August 24, 2020 at 12:00AM through Wednesday, September 11, 2020 at 11:59pm ONLY. Contestants may have an instrumental accompanist, but the accompanist will not be judged. A contestant can submit a video in only ONE performance, ONE age group. Each act of every age category must be limited to FIVE minutes in length and must have at least :60 seconds of content (Acts going over that time will be eliminated). Videos will only be allowed for submission during the contest period and from the appropriate age group submission form at 983thecoast.com. Videos may be uploaded as your technology/account permissions will allow from sources including YOUTUBE, INSTAGRAM, and TWITTER, or direct file upload to the submission form from your phone or computer. Videos may NOT be submitted any other way. Submitted videos should NOT be fully produced, containing adjustments/edits/auto-tuning/alterations in any way; all submissions should be RAW and UNEDITED in nature as if you were performing in public. The judging will be based the number of votes earned per contestant from a combination of PEOPLE'S CHOICE VOTES during the official online voting period at 983thecoast.com from September 14-20, 2020 AND OVERALL JUDGES DECISIONS. There will be three age categories:  7-10, 11-14, & 15-18 years. If a group has several different ages combined, the group must compete in the age category of the oldest member. The end results are final. If chosen as 1st, 2nd, or 3rd place, you agree to let 98.3 The Coast and its' sponsors use your name and/or likeness for publicity. 2019 1st place winners cannot compete again in the same age category. Contestants may only win 1st place ONCE for each age category. Prize dollars will be mailed within 30 days of contest decision, and will be in check form. Checks will be sent to the parent submitting the video. Acts with multiple winners involved in a talent submission will be responsible for splitting their prize winnings fairly and equally, and 98.3 The Coast is not responsible for internal disputes involving prize dollars. Prize dollars are awarded in each age group as follows for 2020: First place – $200. Second place – $100. Third place – $50.