We're Live and Local for Michigan's Great Southwest
Listen online at 983thecoast.com, Mobile or 98.3 FM
CALL: 269-934-9830
E-mail Jonny / Email Stephanie


Subscribe to
98.3 The Coast
Or subscribe with your favorite app by using the address below

Be a featured non-profit or event on the Coast Social Network, weekday mornings at 8:10am! Click here to request a time slot on the show.

It's the day's fun and uplifting story! Submit a local story for us to talk about now here.

– News at 5:55, 6:55 and 7:55
– 6:15am: Coast Music News Minute – Check out what's happening with your favorite Coast artists in this quick bite of music news
– 6:30am: Early Bird Trivia -Get a chance at winning Free Pizza Hut Wingstreet food just by using a little bit (and sometimes a lot!) of brainpower to answer these mind-teasers!
– 7:15am: Coffee Talk – Everything floating around the Internet, Facebook, Twitter, the news and more that's trending or getting lots of hits on websites. We'll keep you on top of what's hot!
– 7:45am: Weigh in on the hottest topics of the week and have your say at facebook.com/983thecoast! Your comments could be used on the air!
– 8:15am: The Coast Social Network – We'll talk to your friends and neighbors about the good things they're doing to make our community a better place to live, and how you can get involved
– 8:30am: The Daily Dish – The best of everything the papers, blogs and shows have to offer about your favorite stars, plus what's on TV and what's at the movies!
– 8:45am: Happy Headlines – Let's get happy! We'll share a happy story from across the nation, or locally, to help you start the day on the right foot!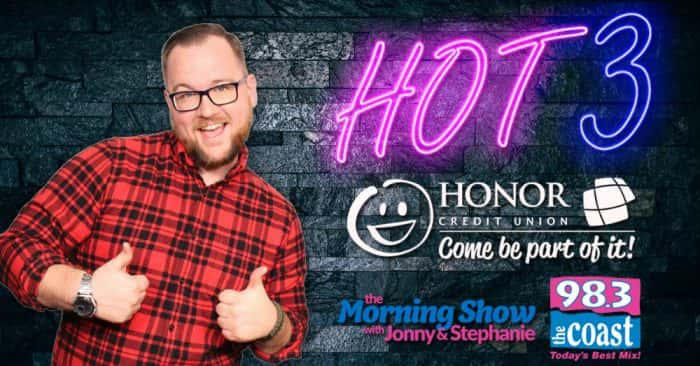 Stacey from Honor Credit Union updates on some things that they are doing to assist members and business at this time. Find some great info HERE! Podcast: Play in new window | Download | EmbedSubscribe: Apple Podcasts