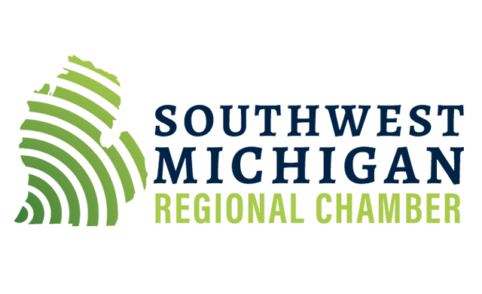 Sarah Spoonholtz from the Southwest Michigan Regional Chamber talks to Zack about the many ways the Chamber responded to COVID-19 and shutdowns in the region, and how they'll continue to respond and assist businesses in 2021.
2020 Covid-19 Pandemic Response
Serving Southwest Michigan In Its Time of Need

Buy Local Berrien! (new) – We launched the wildly successful Facebook group in March to encourage our community to support local throughout the "Stay Home, Stay Safe" order.  With over 11,500 engaged members, the group continues to move the needle for area businesses in their fight for solvency.
Buy Local Berrien Holiday Gift Guide (new) – In the midst of a second shutdown, and following the success of our Facebook group, we launched a Buy Local Berrien Holiday Gift Guide and created a campaign to turn Small Business Saturday into Small Business Season. Small businesses were able to submit their specials using a form and get listed on the newly created buylocalberrien.com. We also leveraged our partnership with Mid-West to launch a "buy local" radio spot co-voiced by Pat Moody and Arthur Havlicek.
#BuyLocalBerrienChallenge (new) – We created a viral social media challenge encouraging consumers to support local business affected or closed by the second round of restrictions. Those who took the challenge posted photos of their purchases and then nominated three of their friends to go out and support local as well. This challenge was taken countless times throughout the county and helped spur consumer spending at a critical time for thousands of local businesses.
Buy Local Bridgman Gift Card (new) – We partnered with the Greater Bridgman Area Chamber & Growth Alliance to launch a brand-new community gift card program for Bridgman merchants. Unlike reloadable visa debit cards, these ensure the money spent stays completely local. It's also not store specific, which means it can be redeemed at a number of participating locations. Visit smrchamber.com/bridgman for more information!
Berrien Reopens (new) – We partnered with the Cornerstone Alliance, Kinexus Group, the Berrien County Health Dept., and the Berrien County Government in launching www.berrienreopens.org, a localized resource with consolidated information meant to assist companies in a safe re-opening. We then took lead in expanding the group by inviting every other chamber and business organization in Berrien County. A week after Berrien Reopens was formed, the coalition more than doubled in size.
Southwest Michigan Safe (new) – We launched a safety awareness campaign that encouraged public, private, and non-profit entities to pledge to uphold a basic set of health and safety recommendations with the ultimate goal of increasing consumer confidence throughout the county. Visit www.swmisafe.org and take the pledge to be listed in our online directory.
Virtual Downtown (new) – We led a partnership between the Chamber, CrazeVR, and the City of St. Joseph to create an entire virtual downtown for consumers to "walk" through and click links to individual storefronts.  This is an ideal solution for consumers who are still uncomfortable with in-person shopping and retailers without an online presence.  Visit www.seestjoseph.com and click "Go VR" today!
St. Joseph Lights (new) – We contributed matching funds along with the Cornerstone Alliance, the Southwestern Michigan Tourist Council, St. Joseph Today, and the City of St. Joseph to purchase and hang Christmas lights all throughout State Street and the rest of the downtown area. This placemaking effort was intended to encourage the public to visit and shop downtown this holiday season, despite the colder weather and re-imposed restrictions.
Virtual Networking (new) – We launched several brand-new virtual networking opportunities for members to stay engaged. These included Coffee Chats, Wine Down Happy Hours, Industry Cluster Meetings to discuss safe re-opening practices, and we co-hosted multiple "Wicked Smart Webinars" with Mid-West Family Broadcasting Group on how to advertise during a crisis.
Advocacy – We've lobbied the state to adopt industry-specific health guidelines, helped employers wade through a myriad of resources and a maelstrom of restrictions, and have been a strong voice for allowing businesses to re-open safely. Notably, our Board Chair testified on behalf of struggling SW MI businesses in front of the Legislature's Joint Select Committee on the COVID-19 Pandemic, and we were among a select group of chambers to partner with the Michigan Chamber in releasing a COVID-19 Relief & Recovery Agenda.
Communication – Last but not least, we made it a priority to provide accurate and up-to-date information to both our members and the community-at-large.  We sent out regular COVID-19 Email Updates and created a localized COVID-19 Tool Kit on our website.  We provided weekly updates through our columns in MailMax and each of Leader Publications' four news products: The Niles Daily Star, The Dowagiac Daily News, The Edwardsburg Argus, and the Cassopolis Vigilant marking the first time we've ever been regularly published across three Southwest Michigan Counties.  We continued weekly/bi-weekly radio segments on 102.5 FM/AM, 1060 WHFB, 97.5 Y-Country, 98.3 The Coast, and News Talk 94.9 WSJM.  And finally, we made full use of the newly created Buy Local Berrien! audience to disseminate information directly to an engaged audience of consumers.
Podcast: Play in new window | Download | Embed
Subscribe Apple Podcasts | Google Podcasts | Spotify | Stitcher | Email | TuneIn | RSS | More