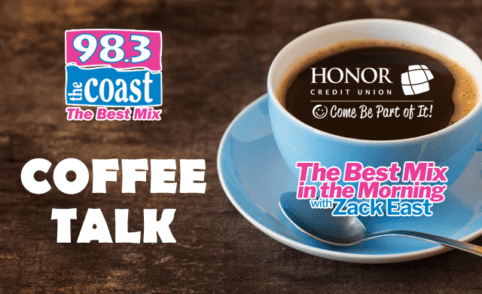 So, just how important is music in a relationship? A new survey found that
two-thirds of respondents
said that having bad taste in music is a relationship dealbreaker. (
Best Life
)
---
What's in a name? Apparently, more money. A new study found that men and women with the names Andrew and Anna earned more money than people with other names. The second best names for financial success were Sam and Maria, followed by Alex and Laura in third, Christopher and Helen in fourth, and Darren and Sarah in fifth.
The worst names when it came to investment success? For men:  Ali, Rob, Dan, Chris, and Dominic. For women: Karen, Claire, Lisa, Jennifer, and Rachel. (
Best Life
)
---
Remember singing songs, toasting marshmallows and telling ghost stories around the campfire? 
Well, things have changed. Seems those staples of camping have been replaced with streaming movies and scrolling through social media. A new survey found that 83% of campers and RV-ers take their gadgets and devices away with them. 41% said they couldn't imagine being in the great outdoors without their phones. Even toasting marshmallows is a thing of the past. 60% of adults polled said they had cooked marshmallows over a fire, with just 40% of kids saying they have done so. Two-thirds of parents said they have built a fire compared to one-third of kids. And 37% of the parents surveyed said their kids find camping traditions like putting up a tent and sitting around a campfire to be boring. (
SWNS
)
---
A Nebraska man has a bone to pick with his city's restaurants, and he wants local authorities to help him out — by making it illegal to sell "boneless chicken wings."
Andrew Christensen showed up at a meeting of Lincoln's city council, and stood up to speak during the "public comment" portion of the evening, saying he had an important issue to address. His complaint was about eateries that offer "boneless wings" on their menus.
Christensen laid out a number of reasons during his lengthy speech, saying "Number-one, nothing about boneless chicken wings actually come from the wing of a chicken. Number-two, boneless chicken wings are just chicken tenders, which are already boneless. Number-three, we need to raise our children better. We need to teach them that the wing of a chicken is from a chicken, and it's delicious." (
BroBible
)
...
[Read Full Story]